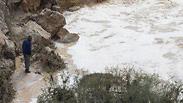 Mamshit River
Photo: Herzl Yossef
Heavy rain, golf ball-sized hail and flash floods assailed Israel Wednesday, catching many already used to summer weather by surprise and even claiming the lives of two.

Kais Alwashla, a 16-year-old Bedouin resident of the south, was swept away by the Mamshit River and was later found in critical condition. He was evacuated to a hospital via helicopter but was later pronounced dead.

A young woman around the age of 18 from the village of Arab al-Rashayida in the Bethlehem Governorate, central West Bank was also swept away by a flash flood when she apparently went to tend to her sheep near the village. She was carried off about 8.5 kilometers with her sheep in a stream near Amos, east of Gush Etzion. Palestinian search and rescue teams pulled her body out of the water, pronouncing her dead at the scene.

Spring storm hammers Israel (צילום:עידו רינגר צור נצר, מארק כץ, מנו סיוקן טל אשכנזי ואביה חדד אריה שיף מוחמד שילבי נמרוד רחמימוב )

About 80 students from the Bnei Arazim boarding school in Rishon LeZion were stranded near the village of Nokdim due to a flood and had to be rescued, some suffering from light hypothermia.

In addition, the Rothschild Mall in the city was completely flooded, and children trapped in a flooded shelter in a school on Hayarkon Street in Tel Aviv had to be evacuated.

Mall flooded after freak storm

Rishon LeZion submerged (צילום: הדר זמיר)

Dozens of others had to be rescued from various flooded areas throughout the country.

In all the incidents, no casualties were reported.


The police reported that Highway 40 was blocked to traffic from Mitzpeh Ramon to Tzihor junction following floods. Route 90 was also closed from the area of the Dead Sea area to the north, after Nahal Rahaf overflowed.






The Water Authority said the rivers of Ramon, Mamshit and Paran have overflowed.

"The floods in these areas will continue in the next few hours and will spread northward to the Dead Sea area, as well as to the southern Negev near Eilat," said the Water Authority.

Bicycle races scheduled to take place this week in Ramat Gan and Jerusalem were postponed by a week.



Heavy hail fell at noon in Dimona and Arad and property damage was caused, among other things to cars. Roads and streets in the south were flooded.

Sde Dov Airport in Tel Aviv was closed due to the storm.

Ilana Curiel, Ahiya Raved, Yael Freidson, Eli Senyor and Roi Rubinstein contributed to this report.