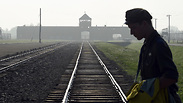 Auschwitz concentration camp
Photo: AP
Poland criticizes US claim that Polish law glorifies Nazism
American congressman Ro Khanna criticizes Holocaust Law, leading a bipartisan effort to force US state Department to apply pressure on Poland and Ukraine to fight against alleged state-sponsored anti-Semitism; Andrzej Pawluszek, an adviser to Polish PM, says Khanna's words are ' irresponsible and shocking.'
Polish officials on Thursday criticized the claim of a US congressman that a new Polish law glorifies Nazi collaborators and denies the Holocaust.
The charge was made by Ro Khanna, a Democrat from California, one of two congressmen leading a bipartisan effort urging the US State Department to pressure Poland and Ukraine to combat state-sponsored anti-Semitism.
"Our government should be concerned with the resurgence of anti-Semitism in Ukraine and Poland. Both countries recently passed laws glorifying Nazi collaborators and denying the Holocaust," Khanna wrote Wednesday.
In the Polish case, Khanna referred to a new law that makes it a crime to blame Poland for the Holocaust crimes of Nazi Germany.
The law has sparked criticism in the US and particularly in Israel, where some fear its aim is to quash discussions about Polish anti-Semitic violence during the German occupation in World War II. However, even critics to date have not tried to argue that the law glorifies Nazism.
Andrzej Pawluszek, an adviser to Polish Prime Minister Mateusz Morawiecki, told The Associated Press on Thursday that Khanna's words were "irresponsible and shocking."
Polish Deputy Foreign Minister Bartosz Cichocki retorted Wednesday on Twitter: "Sir, I would appreciate if you indicated a single law passed in my homeland Poland (recently or not), which glorifies Nazi collaborators and/or denies Holocaust."
In a separate post, he added: "Equally, I would love to learn what exactly your government did to combat (the) Holocaust after being requested to do so by the Polish government-in-exile."
During Germany's occupation of Poland during the war, the Polish government-in-exile struggled to warn the world of the mass killing of Jews—a message that was largely ignored.
The Auschwitz-Birkenau state museum also weighed in, saying "there is no law in Poland that would glorify collaborators of the German Nazis or that would deny the Holocaust."
Attempts seeking comment from Khanna were made by phone and email, but no response was received.