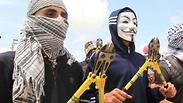 Palestinian rioters trying to sabotage border fence
The Israeli Air Force attacked six terror targets belonging to the Hamas naval force in the Gaza Strip late Friday night after a large-scale attempt by Palestinian rioters to breach the border fence and enter Israel earlier in the day.

According to Palestinian reports, IAF aircraft launched missiles at two boats at the Gaza port, as well as a Hamas post in Deir al-Balah, south of the port. No injuries were reported in the strikes, but the boats were damaged.

A 15-year-old Palestinian teenager hurt in the violent clashes on the border succumbed to his early Saturday, bringing the number of dead in clashes this Friday to four.

Azzam Aweida, 15, was hit in the head during protests in southern Gaza on Friday, the Gaza health ministry said.

Hundreds of people gathered at his home in the southern town of Khan Younis to attend the funeral.

Mourners carried his body, wrapped in a Palestinian flag, to a nearby mosque for prayers before burial. "My son is a martyr and I am very proud of him," said his father, Helal Aweida.

According to Gaza's health ministry, more than 300 other people were hospitalized for gunshot wounds and tear gas inhalation.

Hundreds of Palestinian rioters tried to enter Israeli territory on Friday by attempting to burn the security fence near the Karni crossing. The rioters threw explosives, hand grenades, Molotov cocktails and stones at the fence and tried to set it on fire. IDF forces used crowd dispersal measures and live fire and were able to block the attempts.

"Attempts have been made to harm security infrastructure, roll burning tires, hurl rocks and fly kites with flaming objects attached to them," the IDF said.

"Troops have used riot dispersal means and have fired in accordance with the rules of engagement," it added.

The protests, which took place in five spots along the border, saw low turnout for the third week in a row, with only some 10,000 rioters attacking the fence.

Palestinians trying to breach border fence (צילום: דובר צה"ל)

The Palestinian ambassador to the UN challenged Israel on Friday to agree to an independent commission to investigate events in Gaza and determine "who are the criminals, who are violating international law and to hold them responsible for these crimes."

Riyad Mansour demanded to know why Israel won't accept an independent and transparent investigation, as Secretary-General Antonio Guterres has called for.

He said the Palestinians are exploring ideas, including at the Geneva-based Human Rights Council and the International Criminal Court, to "stop this massacre and serve justice and to hold accountability."

"We will not leave a stone unturned," he told reporters at UN headquarters in New York.

"Those cowards who are hiding behind the hills and armed to the teeth ... with high velocity rifles to use them as snipers against civilians -- shame on them. They are the cowards who are facing defenseless civilians and killing them, as one would go hunting in the open fields," Mansour said.

"If they are really a moral force," he said, "they would not conduct themselves in this matter. They would allow people to demonstrate peacefully without threatening their lives."

The UN High Commissioner for Human Rights Zeid Ra'ad al-Hussein on Friday called the loss of life deplorable and said a "staggering number" of injuries had been caused by live ammunition.

Meanwhile, Amnesty International called for an arms embargo of Israel over the use of live fire.

"For four weeks the world has watched in horror as Israeli snipers and other soldiers, in full protective gear and behind the fence, have attacked Palestinian protesters with live ammunition and tear gas," the human rights organization said in a statement.

The Associated Press, Reuters and AFP contributed to this report.