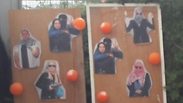 Arab figures used as target practice
Police use Arab figures for target practice at northern school
As part of activity day organized by police for Menashe Regional Council school, students shoot at keffiyeh-clad Arabs for paint gun practice; MK Zahalka writes incensed query to Minister Erdan, demanding to know who organized activity; police says incident localized, instructions have been made clearer to prevent incident from recurring.
Figures of keffiyeh-clad Arabs were used for target practice with paint guns at a Menashe Regional Council school, it was reported last week, when students were asked to shoot the targets as part of a simulated practice.

The incident, which was organized as part of an Israel Police activity with the children, raised a public outcry, with Joint List MK Jamal Zahalka submitting an urgent query to Minister of Public Security Gilad Erdan, who demanded to know "who decided on a program in which children are taught to shoot at figures of Arabs, and what is the educational goal of drilling children on shooting at figures of Arabs."

Zahalka further said he demanded to know who in the Education Ministry and police was responsible for the "racist program that educates violence" and demanded it be summarily stopped.

"This act," he claimed, "points to graver things. It cannot be accepted idly."

A social activist echoed the MK's statements, saying police should accept responsibility for their actions. "The images hurt the feelings of Arab citizens. The police's goal was clear: instructing how to shoot at Arabs," the activist said. "They should apologize for this grave act and promise it will not happen again."

The police provided its own statement on the matter, saying, "Border Policemen participate in community activities on a daily basis, as part of which children learn about good citizenship and police's role in society. As part of the displays in current use and in order to engender interest among participants, a paint gun station was erected.

"Now and again, targets bearing human images were placed at the station in a manner both irregular and localized. Before the activity began, the activity's commanders and the school staff noticed the matter and hid the images, and no children saw them during the activity itself."

Despite the claim, police said, "instructions on the matter were made clearer to prevent such an incident from recurring."

The Education Ministry offered a defense of its own, saying it considered the display to be a serious mishap, and that it was removed following "overtures from the educators present there."

"The Education Ministry brings up children with values of respect and tolerance towards all people, while expressing all facets of Israeli society. The incident was examined with the Israel Police and the appropriate lessons have been learned to prevent such a display from being posted in an educational institution again," the ministry's statement concluded.

The Menashe Regional Council pointed a finger at the police, saying the activity was organized and carried out by law enforcement. "The council had no bearing or relation to organizing or carrying out activities," the statement added. "The council is home to Jews, Arabs, religious and secular people, all of whom live in coexistence and harmony. We will work to ensure that the next time a police activity day is held, no images will be used that are offensive to any nationality."