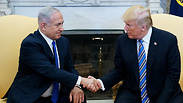 Netanyahu (L) and Trump
Photo: AFP
Prime Minister Benjamin Netanyahu and US President Donald Trump spoke on the phone Sunday about Iran's "destabilizing activities" in the Middle East, according to the White House.

The two leaders discussed "threats and challenges facing the Middle East region, especially the problems posed by the Iranian regime's destabilizing activities," according to a White House readout of the call.

The US and Israel share a leery view of Iran and the 2015 Joint Comprehensive Plan of Action (JCPOA)—commonly known as the Iran nuclear agreement—and have time and again spoke out against Tehran's hegemonic ambitions in the Middle East and expressed worry that the nuclear deal will be insufficient in thwarting its nuclear aspirations.

Trump has deemed the nuclear agreement "the worst deal" the US has ever made. He faces a May 12 deadline for a final decision regarding the nuclear agreement, giving the United States' European allies less than two weeks to decide on amendments to it before the US withdraws from it.

Prime Minister Netanyahu is one of the only leaders to express his support of a possible American withdrawal from the nuclear deal, while other leaders and signatories of the international agreement, including German Chancellor Angela Merkel and French President Emmanuel Macron, have tried to dissuade Trump.

On Sunday, the new US Secretary of State Mike Pompeo told Netanyahu that Trump "will withdraw from the Iranian nuclear agreement" if it cannot be fixed. "It's pretty straightforward."

Pompeo hailed the "fantastic conversations" with Netanyahu during a joint press conference, telling him that the US remains "deeply concerned about Iran's dangerous escalation of threats towards Israel and the region."

"Strong cooperation with strong allies like you is critical to countering Iran's destabilizing and malign activities," the former CIA director said, before assuring the Israeli premier that "The United States is with Israel in this fight, and we strongly support Israel's right to defend itself."