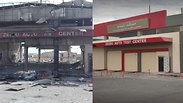 Israeli Air Force F-15 planes on Sunday attacked a military facility housing the 47th Brigade of the Islamic Revolutionary Guard Corps after Iran transferred arms to it, three US officials told NBC Wednesday.

According to the US officials, inter alia, surface-to-air missiles were transferred to a base in Syria.

Yesterday, the New York Times reported that 200 missiles had been destroyed in the missile strikes on the bases in the Hama and Aleppo countryside. According to the latest report, about 25 people were killed, most of them Iranians, and 35 others were injured.

"On the list of the potentials for most likely live hostility around the world, the battle between Israel and Iran in Syria is at the top of the list right now," said one senior U.S. official.

Government sources said that Israel appeared to be preparing for war with Iran.

They noted that even though Israel had not requested permission from the United States for further actions, "some cautionary notes were sent." According to them, Israel has returned to a campaign of deliberate air strikes.

Video of the missile strike

The same sources said that Israel is increasingly concerned about Iran's influence in Syria. The sources said that while Russia is responsible for the pro-Assad aerial forces in Syria, Iran is responsible for the ground forces.

According to NBC, in the past two weeks, Iran has increased military shipments to Syria.

The supplies included ground-to-air missiles, which, according to two US officials, were meant to strengthen Iran's forces in Syria in preparation for an attack in Israel.

Syrian rebels claimed some of the arms caches struck in the attack held chemical weapons.

According to Syrian state television, the missile attacks took place at 10:30 pm. Al Akhbar reported the targets of the strike were Syrian army bases being used by Iran's Revolutionary Guard Corps.

The explosions were registered as a 2.6 magnitude earthquake by the European Mediterranean Seismological Center.

A day after the attack, the Iranian ISNA news agency reported that a senior official in the Islamic Republic was killed in an attack.

The Syrian Center for Human Rights confirmed that most of those killed in the two attacks were Iranian.