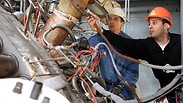 West Bank's electricity distribution shifted to Palestinian Authority
Photo: Yosi Waiss
Israel signed a 15-year, $775 million deal with the self-ruling Palestinian Authority on Tuesday to put electricity distribution for Palestinians in the West Bank in PA hands and build four power plants to that end, officials said.

The nearly three million Palestinians in the residing in the West Bank currently rely on Israel for their electricity, with neighboring Jordan providing power to the Jericho area in the Jordan river valley.

The deal does not apply to the Gaza Strip, whose two million Palestinians suffer frequent blackouts due to severe fuel shortages and continued power-sharing disputes between Gaza's Hamas terror organization and the West Bank-based PA.

As part of the new deal, the PA will pay off a 915-million-shekel debt to the state-owned utility Israel Electric Corp (IEC), while taking charge of the distribution of electricity to West Bank Palestinians.

The IEC will sell power to the Palestinian Electricity Transmission Company (PETL) through four plants to be built by the IEC and PA. PETL will own the power plants and channel the electricity supply.

"The agreement ... frees the Palestinian electricity sector of complete Israeli control, which has lasted for decades," said a statement issued in the name of Hussein Al-Sheikh, head of the PA's civil affairs agency.

Israel's Energy Minister Yuval Steinitz said the agreement paves the way for Palestinians to develop a modern grid.

"(The deal) brings about a new reality in the Palestinians' energy sector, reduces restrictions on electricity supply, strengthens economic stability...and opens a new era in economic relations between the two sides," said Israeli Finance Ministry Director-General Shai Babad.

Palestinians in Gaza, an impoverished coastal enclave, suffer up to 18 hours of power cuts per day due to fuel shortages. The electricity Gaza gets from Israel, Egypt and a local power plant remains under half the estimated 600 megawatts that would satisfy daily needs.

Talks on a Palestinian state in the West Bank and Gaza have been frozen since 2014 and Israel and the PA have sparred repeatedly over unpaid PA debts to the IEC. The deal includes collateral and a guarantee mechanism to ensure the IEC is paid.