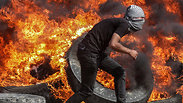 Clashes on the Gaza border
Photo: EPA
A Palestinian who allegedly asked IDF soldiers to shoot during the violent protests on the Gaza border last month, so he could receive a $500 payment and a monthly stipend from Hamas, according to an indictment filed against him on Tuesday.

Mustafa Banna, 20, was charged with security offenses, including entering a closed military zone, membership in a terror organization, providing measures to commit a crime and arms offenses.

According to the indictment, Banna is a Hamas member who joined the terror group in 2017 following in the footsteps of his uncle, who was already a member of Hamas.

Among other things, Banna is suspected of taking part in the digging of one of Hamas's tunnels in the Saja'iyya area. He was also allegedly part of the medical unit that treated Hamas members injured while digging the tunnels.

According to the indictment, Banna joined the Hamas-organized protests over the right of return on the Gaza border in early April. He allegedly came close to the Gaza border fence in an effort to get shot and wounded by IDF soldiers.

He made it all the way to the fence, but soldiers fired into the area instead of at him and ordered him to leave the buffer zone. Banna ignored the soldiers' instructions and asked one of the soldiers to shoot him.

A Hamas force that arrived at the scene also called on Banna to return to the safe zone, but he refused.

He entered Israel despite being told by the soldiers that if he did so he would be arrested and jailed.

According to the indictment, Banna wandered without justification near a "limited area" and tried to hinder soldiers keeping the order in performing their duty, which could hurt national security.