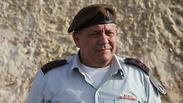 IDF Chief of Staff Gadi Eisenkot
Photo: TPS
The IDF has thwarted attempts to abduct soldiers on the Gaza border under the cover of the violent Hamas-organized protests over the past few weeks, Chief of Staff Gadi Eisenkot revealed on Tuesday.

"In recent weeks, we've once again witnessed the complexity of reality, as our forces were tasked with withstanding mass rioting, under the cover of which terror activities were carried out, including attempts to harm soldiers, abduction attempts, attacks on military posts and attempts to infiltrate (Israeli) communities," Eisenkot said during a changing of the guards ceremony for the Coordinator of Government Activities in the Territories (COGAT).

"We're in a complex time with big challenges from the north and the south," the IDF chief continued. "While the residents of the Gaza Strip deal with difficult civil hardships, we witness the cruelty of Hamas, which allocates great resources to building useless underground tunnels, while these resources could have been put into bettering the situation of the Gaza Strip's citizens."


The IDF chief also discussed the army's central goals. "Our shared commitment is to return Hadar (Goldin) and Oron (Shaul) home, a mission we have yet to complete. Their return will lead to the improvement of the civil and economic reality in the strip. In the meantime, we deal with a reality in which Hamas has taken over life in the strip and led it to what it has been recently," he said.

During the ceremony in Jerusalem, Eisenkot bid farewell to the departing COGAT, Maj. Gen. Yoav Mordechai.

"Poli, my friend, you fulfilled a central role in the State of Israel's ties with Arab countries," he said, using Mordechai's nickname. "You've made your contribution with deep understanding, sensitivity, and uncompromising determination to promote the security of the State of Israel. I am full of appreciation and gratitude. On behalf of the entire IDF, I salute you for many years of work in intelligence and in your last role, and for everything you are to me and to the entire General Staff, a true friend."

Maj. Gen. Kamil Abu Rokon was sworn in as the new COGAT.