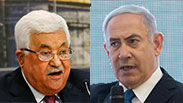 Abbas and Netanyahu
Photo: EPA, AP
Netanyahu slams Abbas's anti-Semitic speech
'Abbas is once again reciting the most contemptible anti-Semitic canards. Apparently the Holocaust-denier is still a Holocaust-denier,' the PM says, calling on international community to condemn speech; Foreign Ministry: 'Abbas used stereotypes and accusations taken from the lexicon of classic anti-Semitism.'
Prime Minister Benjamin Netanyahu slammed on Wednesday Palestinian President Mahmoud Abbas's anti-Semitic speech at the Palestinian National Council (PNC) conference in Ramallah.

"With utmost ignorance and brazen gall, (Abbas) claimed that European Jews were persecuted and murdered not because they were Jews but because they gave loans with interest," Netanyahu said. "Abbas is once again reciting the most contemptible anti-Semitic canards. Apparently the Holocaust-denier is still a Holocaust-denier."

Netanyahu called on the international community to "condemn Abbas's severe anti-Semitism; the time has come for it to pass from the world."

The Foreign Ministry also harshly criticized Abbas's remarks, saying it "rejects with contempt the anti-Semitic and Holocaust denying speech by the Palestinian Authority chairman."

"Abbas made remarks that cannot be described in any other way but as anti-Semitic and denying the Holocaust when he accused the Jews of their Holocaust and extermination, while using stereotypes and accusations taken from the lexicon of classic anti-Semitism," the ministry continued.

The European Union's foreign service heeded the prime minister's call and condemned Abbas's remarks as "unacceptable."

In his speech Monday, the Palestinian leader repeated conspiracy theories about the Jews' origins and their ties to the land of Israel.

"The Jewish question that was widespread throughout Europe was not against their religion, but against their social function, which relates to usury and banking and such," Abbas said on Monday.

He claimed Nazi leader Adolf Hitler offered the Jews money incentives to emigrate out of Europe to Palestine, including the option of taking all of their assets with them and selling their real state in the continent.

"He (Hitler) wanted the Jewish homeland (in Palestine) to be supportive of him," the Palestinian leader said.

Abbas also spoke about the roots of European Jewry, quoting a historian called Arthur Koestler who wrote about a "13th tribe" of Israel in the "Khazar Kingdom"—a theory that has been dismissed by other Jewish historians.

The Khazar Kingdom, Abbas said, eventually collapsed and its subjects spread throughout Europe. Those subjects, Abbas asserted, are the Ashkenazi Jews.

"They have no relationship to Semitic culture, Abraham, Jacob and others," Abbas claimed.

He also compared the treatment of European Jews to that of Jews who lived in Arab nations, saying the latter never suffered from persecution in the 1,400 years they lived there.