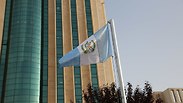 Guatemalan flag in Jerusalem
Photo: Alex Kolomoisky
Two weeks before Guatemalan President Jimmy Morales is supposed to officially move his country's embassy in Israel to Jerusalem, the Guatemalan flag was flown for the first time on Wednesday in Israel's capital.

The Central American country's embassy will become operational, at least in the first stage of the move, on the third floor of the Jerusalem Technology Park and will later start operating from its permanent location on the eleventh floor of an adjacent building.

The Israeli Foreign Ministry footed part of the cost of transferring the embassy from Rishon LeZion to Jerusalem, contributing a total of $300,000.

In addition to the inauguration of the US Embassy in Jerusalem on May 14, Israel is in talks with several other countries trying to persuade them to move their embassies to Jerusalem as well.

The president of Paraguay has announced his intention to move his embassy, while the president of Honduras is also considering doing so. The Czech Republic and Romania are discussing similar initiatives.