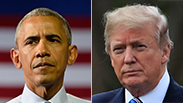 Former US President Obama and current US President Trump
Photo: AP, shutterstock
Report: Trump aides hired Israeli private investigators to discredit Iran deal
According to the Observer, officials linked to Trump's team contacted a private Israeli intelligence firm last year to 'get dirt' on Obama administration officials Ben Rhodes and Colin Kahl, who took part in talks over the nuclear deal, in an effort to undermine the agreement itself.
Aides to US President Donald Trump reportedly hired a private Israeli intelligence firm last year to "get dirt" on prominent Obama administration officials who were involved in talks on the Iran nuclear deal in an effort to discredit them and consequently the deal, according to a story in the British Observer newspaper Saturday.

According to the Observer, Trump aides contacted private investigators in May 2017, asking them to look into Ben Rhodes, who served as deputy national security advisor for strategic communications in the Obama White House, and on Colin Kahl, who served as the deputy assistant secretary of defense for the Middle East.

The pact between Iran and six major powers—Britain, China, France, Germany, Russia and the United States—was among former US President Barack Obama's signature foreign policies but has been described by Trump as "one of the worst deals I have ever witnessed."

Under the deal, Iran strictly limited its enrichment of uranium to help allay fears this could be put to producing atomic bomb material, and won major sanctions relief in return.

Trump gave Britain, France and Germany a May 12 deadline to fix what he views as the deal's flaws—its failure to address Iran's ballistic missile program, the terms by which inspectors visit suspect Iranian sites, and "sunset" clauses under which some of its terms expire—or he will reimpose US sanctions.

According to the Observer, officials linked to Trump's team contacted the Israeli private investigators several days after the American president's visit to Israel last year.

"The idea was that people acting for Trump would discredit those who were pivotal in selling the deal, making it easier to pull out of it," a source told the Observer.

Documents seen by the Observer showed that investigators contracted by the private intelligence agency were asked to dig into Rhodes and Kahl's personal lives and political careers.

"Among other things they were looking at personal relationships, any involvement with Iran-friendly lobbyists, and if they had benefited personally or politically" from the deal, the Observer reported.

Investigators were also asked to contact journalists who supported the deal, including writers from the New York Times, MSNBC, the Atlantic, Vox and Haaretz, to see whether Rhodes and Kahl broke protocol by providing the media with classified information.

The Observer noted, however, that while sources confirmed the Trump aides had contacted the private investigators and provided them with an "initial plan of attack," it remains unclear how much work was actually done, for how long, whether any pertinent information was uncovered and whether any use was made of it.

Both Rhodes and Kahl told the Observer they had no knowledge of the investigation.

"I was not aware, though sadly am not surprised," Rhodes said. "I would say that digging up dirt on someone for carrying out their professional responsibilities in their positions as White House officials is a chillingly authoritarian thing to do."

Reuters contributed to this report.