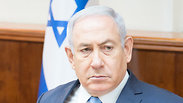 Prime Minister Benjamin Netanyahu
Photo: Emil Salman
Netanyahu: Better to confront Iran now than later
Prime Minister Netanyahu warns that Iran is supplying Syria with advanced weapons 'to attack us both on the battlefield and on the home front,' noting Israel is 'determined to block Iran's aggression against us, even if this means a military conflict.'
Prime Minister Benjamin Netanyahu warned Sunday that Iran is supplying advanced weapons to Syria that pose a danger to Israel, asserting that it's better to confront Tehran sooner rather than later.

"We are determined to block Iran's aggression against us, even if this means a (military) conflict. Better now than later," Netanyahu said at the start of the weekly Cabinet meeting. "We do not want escalation but we are ready for any scenario."

In recent months, the Iranian Revolutionary Guards have "transferred advanced weaponry to Syria in order to attack us both on the battlefield and on the home front, including weaponized UAVs, ground-to-ground missiles and Iranian anti-aircraft batteries that would threaten air force jets," the prime minister added.

Israel has repeatedly warned it will not tolerate a permanent Iranian military presence in neighboring Syria. Iran is a key ally of Syrian President Bashar Assad, and has provided crucial military aid to his forces.

Netanyahu is scheduled to meet on Wednesday with Russian President Vladimir Putin, another ally of Assad, to "discuss regional developments."

"Meetings with the Russian President are always important for the security of Israel and the coordination between the IDF and the Russian military. Israel maintains full freedom of action to defend itself. All of our meetings are important, but this week's meeting is especially important in light of Iran's increasing efforts to establish a military presence in Syria against Israel," he said.

Putin also invited Netanyahu to join him for the annual march marking the Soviet victory over Nazi Germany, after which they will convene in the Kremlin.

The meeting was confirmed following a phone conversation between the two this past Monday, in which they had agreed to meet as soon as possible.

This will mark the two leaders' eighth meeting in the past two years. During the period, they spoke at least 12 times on the phone.

Israel is concerned of the possible sale of the Russian-made S-300 aerial defense system to Syria. A Russian diplomat said two weeks ago that Israel contacted Russia asking for the system to not be provided to Assad's army.

Russian daily Kommersant quoted experts that said Israel may respond negatively to such a decision, going so far as to bomb the area in which they are stationed.

Before arriving in Russia, Netanyahu will embark for Cyprus Tuesday, for a tripartite meeting with Cypriot President Nicos Anastasiades and Greek Prime Minister Alexis Tsipras.

Netanyahu said he plan to discuss "a series of issues, first and foremost the feasibility of laying a joint Israeli-Cypriot-Greek gas pipeline to Italy. The export of Israeli gas to Western Europe could make a very significant contribution to the Israeli economy."