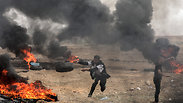 Riots on Gaza border
Photo: EPA
IDF shoots dead 3 Palestinians said to be planting bombs on Gaza fence
Fourth Palestinian shot and seriously wounded by IDF gunfire after Golani Brigade soldiers spot the group attempting to cross the border from Gaza into Israel, sabotage security fence and plant explosive devices; terrorists found to be carrying a camera, an ax, petrol bombs, gloves, wire cutters and an oxygen mask.
IDF soldiers killed three Palestinians on Sunday afternoon, and shot a fourth while trying to cross and sabotage the southern end of the Gaza border fence, according to the IDF Spokesperson's Unit.

The wounded Palestinian was said to be in serious condition and was evacuated to hospital in the strip.


The IDF launched an investigation following suspicions that the Palestinians were attempting to plant explosive devices next to the fence.

The incident took place at Khan Younis when troops from the Golani Brigade's 51st Battalion opened fire on the four suspects.

The IDF investigation subsequently revealed that the group was planning to carry out terror attacks against Israelis. The group was under military surveillance and was spotted while "moving suspiciously and hitting the perimeter fence and crossing while crossing it," the IDF said.

One of the terrorists was found to be carrying a bag containing a camera, an ax, wire cutters, an oxygen mask and gloves. Petrol bombs were found next to the body of one of the terrorists who was shot dead.

"Attempts to damage the fence were prevented, as were attempts to harm Israeli civilians and IDF soldiers. The IDF will continue to act to protect Israeli citizens and against those who seek to harm the security of the State of Israel," an IDF statement said.

"We will not allow damage to be caused to the security apparatus infrastructure of to the citizens of Israel."

Also on Sunday, Hamas's military wing, which blames Israel for an explosion that killed six of its members, said it had occurred "while they were tracking the biggest technological spy system Israel has planted in the Gaza Strip."



The Izz ad-Din al-Qassam Brigades called the Saturday night blast in Deir al-Balah a "deplorable Zionist crime" perpetrated against its fighters.

The Gaza border has been a flashpoint of violent protests in recent weeks. The "Great March of Return" protest on the Gaza border resumed Friday for the sixth week in a row, with IDF officials and residents of the Gaza vicinity weary of increased usage of incendiary kites intended to set fire to their fields as some 7,000 attend the violent demonstration.