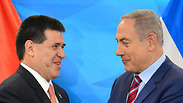 Cartes and Netanyahu
Photo: Kobi Gideon/GPO
Paraguay's President Horacio Cartes will visit Israel by the end of May to inaugurate his country's new embassy in Jerusalem, a Paraguay government spokesman and the Israeli foreign ministry said on Monday.

"Paraguay President Horacio Cartes plans to come to Israel by the end of the month to open an embassy in Jerusalem," Foreign Ministry spokesman Emmanuel Nahshon said in a statement.

A Paraguay government spokesman said Cartes was scheduling a trip to Israel to move the embassy on May 21 or May 22.

Last month, Cartes announced his intentions to move the Paraguay embassy from Herzliya to Jerusalem before the end of his government's term on August 15.

The Paraguayan president surprised attendees with the announcement at an event celebrating Israel's 70th Independence Day in Asunción. Among the invitees were Israel's Ambassador to Paraguay Ze'ev Harel, Cartes' successor Mario Abdo Benitez, the vice president-elect Hugo Velazquez, the country's foreign minister and other dignitaries.

In a visit to Venezuela to meet his counterpart there Nicolas Maduro, Palestinian President Mahmoud Abbas said he hoped other nations would not follow Paraguay, Guatemala and the United States. "We hope that other countries on the American continent are not going to move their embassies to Jerusalem as this acts against international law," said Abbas.

The announcement on Cartes' visit comes one week before the United States embassy opens in Jerusalem on May 14 in accordance with President Donald Trump's December 6 recognition of the city as Israel's capital.

The US move has delighted Israel and infuriated Palestinians.

Israel views Jerusalem as its eternal and indivisible capital, while the Palestinians want the eastern part of the city as the capital of their own future independent state.

In March Guatemala's president, Jimmy Morales, said that his country would move its embassy from Tel Aviv to Jerusalem on May 16, two days after the US move.

Prime Minister Benjamin Netanyahu said in April that "at least half a dozen" countries were now "seriously discussing" following the US lead, but he did not identify them.

In December, 128 countries voted in a non-binding UN General Assembly resolution calling on the United States to drop its recognition of Jerusalem as Israel's capital. Nine voted against, 35 abstained and 21 did not cast a vote.

Itamar Eichner contributed to this story.