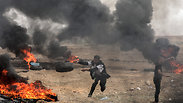 The Palestinian March of Return campaign is expected to climax next Monday when the United States inaugurates and completes the process of moving its embassy to Jerusalem.

Expecting violence, international brokers are lobbying Hamas to organize a mass rally near the Gaza border with Israel, but position its members along the border line to prevent a spontaneous effort to breach the fence by the masses; an action that is likely to trigger a deadly Israeli response.

It is not yet clear what Hamas is being offered in return, as their support of such a breach has already been made clear.

March of Return Gaza (צילום: דובר צה"ל)

Tens of thousands of Palestinians are expected to participate in next week's protests at several locations along the Gaza border. Hamas is hoping for more than 100,000 people to show up.

If the fence is indeed breached by the massive crowds, there can be an exceptionally large number of casualties that can even spiral into a military conflict, which both seem to be trying to avoid.

A Palestinian source said that the Qatari Ambassador to the Gaza Strip Mohammad Amadi, who is in charge of aid to rebuild Gaza on behalf of the Emir of Qatar and maintains good communication lines with Israeli officials, recently entered the strip.

UN Envoy to the Middle East Nikolay Mladenov also visited Gaza and met with Hamas leadership officials recently.

The Hamas leader in Gaza Yahya Sinwar confirmed Wednesday that international negotiators approached Hamas before the start of the March of Return campaign in March in an effort to stop it from proceeding.

"We said that Gaza is like a starved tiger, they tried to humiliate and destroy it for 11 years," Sinwar said. He refrained from revealing what Hamas's response was to the request.

In recent weeks, Hamas has increased the tension in the Gaza Strip, ahead of the pinnacle of the campaign, and is trying with all its might to preserve the flame after public participation in the demonstrations has diminished in the last month.

Hamas understood that they had succeeded in bringing the Gaza Strip back into the public and media agenda in the Arab countries and in Europe, and therefore it seems that they want to keep the cards close to their chest regarding the upcoming demonstrations.