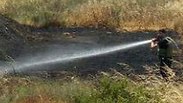 Aftermath of the fire
Sdot Negev Regional Council
Right-wing activists spark fire in Israel flying incendiary kite
Three right-wing activist, among them a notable and vocal supporter of embattled former soldier Elor Azaria, caused a fire in Israel after trying to fly a kite into Gaza; activists, who filmed the incident, claim intention was to raise morale of nearby residents harmed by such kites.
Well-known right-wing activist Ran Karmi Buzaglo was detained Friday at the Gaza Strip border along with two others, also right-wing activists, after trying to fly an incendiary kite into Gaza, but caused a fire in Israeli territory instead.

The fire, which broke out in the Sdot Negev Regional Council, was extinguished before anyone was hurt. No property damage was caused.

The three activists flying the kite (צילום: מומו קארביאן)

Following his release from detention, Karmi Buzaglo—who is known for his struggle for the release of Elor Azaria—claimed he and his two friends were detained for violating a military order limiting people from approaching the border fence, which he denied.

"We were in the agricultural fields of one of the kibbutzim in the Gaza vicinity," he said, noting the fire happened to an error in the kite's construction.

"We took control of the fire and took full responsibility for the incident," he continued. "I regret the inconvenience of the security forces and of course there was no intention of stirring up a fuss.

Karmi Buzaglo, who filmed himself along with his friends flying the kite, stressed it was all intended "to amuse and raise the morale of the residents of the region who are harmed by the kite terror."

The IDF's Gaza Division and Southern Command are deploying their vast forces in the anticipation of the violent riots expected to take place along the Gaza border fence—spreading from Kerem Shalom crossing located in the southern Gaza Strip to the shoreline near Netiv HaAsara.

The IDF estimates that as apposed to the five to six demonstration sites it had to deal with so far during the weekly "March of Return" campaign, some 20 demonstration sites are expected next week.