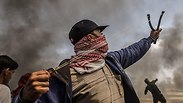 At least 24 of the 61 Palestinians killed Monday in the Gaza border riots were terrorists affiliated mostly with the Hamas terrorist organization, with some being members of the Palestinian Islamic Jihad, the IDF Spokesperson's Unit said Tuesday, following a joint investigation conducted by the IDF and the Shin Bet.
Violent clashes erupted Monday between Palestinian protesters and the IDF on the Gaza border on the backdrop of the opening of the new US Embassy in Jerusalem. This is the highest Palestinian death toll since Operation Protective Edge in 2014.
IDF fighter jets and tanks then attacked Hamas targets in a training camp in Jabalia, in the northern Gaza Strip, following earlier attempts to plant an explosive device on the fence and gunfire at soldiers.
About 40,000 Palestinians have gathered near the fence in 13 hot spots along the border since the morning hours. Several thousand others were located in the tent area about half a kilometer from the fence.
More than 1,200 were shot and wounded, with 116 in serious or critical condition. About 1,200 others suffered other types of injuries, including from tear gas, Palestinian sources said.
On Tuesday, Some 1,300 Palestinians clashed with IDF forces in 18 conflagration zones in the West Bank, including in Hebron, near Rachel's Tomb in Bethlehem, outside Ramallah, at the Qalandiya checkpoint and in the Nablus area. Rioters threw stones, burned tires and lobbed Molotov cocktails at security forces.
At the same time, some 400 Palestinians protested in six places around the Gaza border. The IDF Spokesperson's Unit said that no irregular incidents have taken place thus far, though a 51-year-old Palestinian protester was killed east of al-Bureij in the north-central Gaza Strip by IDF fire.