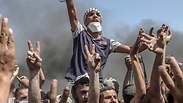 A Hamas activist who was arrested by Israeli security forces while attempting to infiltrate the Gaza border into Israel during Monday's violent protests, explained during his investigation on Wednesday that Hamas deliberately encourages women and children to approach the border fence with the sole aim of incurring casualties and diverting negative attention away from the terror organization.

"Hamas organized the protests in order for people not to 'turn' on them. They (Hamas) say: Instead of them harming us and 'turning' on us, we'll send them to the border fence where they will be hit," he told his investigators.

"They tell women to go forward. They say to a woman: Go ahead, you're a woman and the army doesn't shoot women. They tell small children: Go ahead, the army doesn't shoot small children. They tell a child to go ahead and he goes. It's a small child. They trick him," the man insisted.

Tens of thousands of Gazans clashed with Israeli forces on Monday in another wave of the weekly "March of Return" protests, which have included in recent weeks violence, attempts to breach the border into Israel, and Israeli retaliation using riot-dispersal techniques and in some cases live fire.

Hamas second-in-command and Gaza leader Yahya Sinwar told Al-Jazeera on Wednesday that his organization "reached agreements with Egypt not to turn the situation into a military confrontation," though stressed that "if Israel continues to shed our blood, we will have to use military resistance."

Regarding the issue of a prisoner exchange deal, Sinwar said that talks had been underway, but he blamed Israel for their eventual breakdown.

"There were talks a few months ago. A opportunity was opened to turn those talks into a deal but Israel then retreated from them because it wasn't prepared to pay a price," Sinwar said, emphasizing that "in "the last four months, there have been no talks or breakthroughs on the matter."

Israel Air Force (IAF) jets bombed Hamas positions overnight Wednesday in northern Gaza in response to the machine gun fire which hit buildings in Sderot. Earlier, reports surfaced from the strip alleging that the IAF had also attacked the northern strip in Gaza City.

The Palestinian health ministry says a man was moderately wounded by shrapnel, but didn't say whether he was inside a militant site or nearby.

"Four different targets in a military compound were attacked, among them terror infrastructures," an IDF statement issued overnight said. "Moreover, in a weapons-manufacturing compound, three different targets were struck. The attack was carried out in retaliation for heavy machine gun fire on the city of Sderot and a number of shooting incidents against IDF soldiers during during the day.

"The IDF is determined to continued to execute its missions and to ensure the security and the feeling of security for the citizens of Israel," it added.

Senior Hamas official Salah Bardawil told Palestinian media Wednesday that 50 of the 61 Palestinians killed in the Gaza Strip border riots Monday belonged to the terror group's ranks.

Earlier in the day, an IDF tank fired at a Hamas post in the northern strip in retaliation to fire a military force had sustained from the enclave. There were no Israeli casualties.

"Heavy machine guns were fired by terrorists from Gazan territory. The IDF looks gravely upon the incident and considers Hamas responsible for all goings-on in and coming out of the strip," a statement by the IDF Spokesperson's Unit said after the retaliation.

The Associated Press contributed to this report.