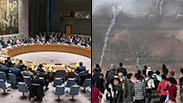 UN opens inquiry on Gaza border deaths
Photo: AP, AFP
The UN Human Rights Council voted Friday to set up a commission of inquiry to look into a deadly crackdown on protesters in Gaza by Israeli forces.

Meeting in a special session in Geneva, the council voted 29-2 with 14 abstentions to back a resolution that also condemned "the disproportionate and indiscriminate use of force by the Israeli occupying forces against Palestinian civilians."

Israel condemned the resolution, which was put forward by a group of countries including Pakistan, and the United States decried it as an example of a biased focus on Israel by the council. Both lamented that it didn't mention Gaza's Hamas rulers, whom Israel blames for the violence.

"Israel strongly rejects the decision made by an automatic anti-Israeli majority, whose results were known in advance," said Prime Minister Benjamin Netanyahu in response, lambasting the "hypocritical and biased" UNHRC which he said has proven itself to be "irrelevant."

Israeli troops firing into Gaza killed 61 Palestinians, including five minors, at mass border protests on Monday.

The "independent, international commission of inquiry" mandated by the council will be asked to produce a final report next March.

During Friday's session, the UN's top human rights official backed calls for an international inquiry and questioned Israel's assertion that its security forces tried to minimize casualties.

"There is little evidence of any attempt to minimize casualties on Monday," said UN High Commissioner for Human Rights Zeid Ra'ad al-Hussein.

Some demonstrators threw Molotov cocktails, used sling-shots, flew burning kites into Israel, and attempted to use wire-cutters on border fences, but "these actions alone do not appear to constitute the imminent threat to life or deadly injury which could justify the use of lethal force," added Zeid, a Jordanian prince.

He said that "the stark contrast in casualties on both sides is also suggestive of a wholly disproportionate response."

Israel and the United States have repeatedly accused the 47-member council of anti-Israel bias.

Israeli ambassador Aviva Raz Schechter said Friday's session and the call for a commission of inquiry "are yet again politically motivated and won't improve the situation on the ground by even one iota."

"The unfortunate outcome of Monday's riots can only be attributed to Hamas' cynical exploitation of its own population in a violent campaign against Israel," she said.

"It is regrettable that so many member states allow themselves to be misled by the false narrative of so-called peaceful protests."

Israel's Ambassador to the UN Danny Danon said the Human Rights Council will only deserve its name after it investigates Hamas just as it does Israel, adding that "the fact that this shameful decision was made even after senior Hamas officials admitted that the vast majority of those killed (on Monday) were terrorists proves once again that nothing motivated the Council's decision apart from its hatred of Israel."

Israeli lawmakers too blasted the resolution, saying it is playing into the hands of an oppressive terror organization.

The UNCHR "could care less about human rights," said Justice Minister Ayelet Shaked. "The Commission seldom criticizes the ongoing genocide in Syria, and ignores the Iranian threat against an entire country, and the cruel way in which Hamas uses women and children for its political goals," she accused.

"That 'inquiry' encourages terror. That was Hamas' goal, and the Commission has been playing into its hands."

Public Security Minister Gilad Erdan backed Shaked's assertions, saying Israel will not be misled by this "absurd" measure, casting the blame for the border deaths solely on Hamas, which he called "a terrorist organization with Nazi characteristics that abuses its people and makes cynical use of the blood of Gaza residents."

"The Human Rights Council has long since become a terrorist rights council," he slammed. "This decision continues the hypocritical anti-Israeli tradition of the Council, and it too will be tossed into the dustbin of history."

Itamar Eichner, Tova Tzimuki and Shahar Hay contributed to this report.