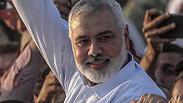 Hamas chief Haniyeh
Photo: EPA
Hamas politburo chief Ismail Haniyeh said "the blood shed during the March of Return achieved its goal" of mobilizing the world against Israel and garner support for the lift on the "siege" placed on the Gaza Strip by Israel and Egypt.

"The siege on the Gaza Strip is beginning to be truly lifted and there are serious steps to remove it altogether," he said speaking at a mosque in Gaza during Friday prayers, mentioning the opening of the Rafah crossing as proof.

He added that "thanks to the demonstrations, the world attacked Israel and demonstrations erupted across the world, even in Western capitals. This is the most appropriate time for reconciliation among all the Palestinian factions and we are ready to take serious steps. The Palestinian issue has returned to the international arena after being forgotten for years."

Haniyeh then vowed that, while stating before that the protests had achieved their goals, they will nevertheless not cease until the siege on the strip is "completely lifted."

Israel and Egypt have placed a blockade on the coastal enclave ever since Hamas took over it in 2007 in an attempt to curb the terror group's weapon smuggling.

Haniyeh previously claimed the goal of the border protests is to promote the Palestinians right of return to what is now Israel.

Meanwhile, Israeli police said the first Friday prayer services of the Muslim holy month of Ramadan ended peacefully at Jerusalem's Al Aqsa Mosque.

Spokesman Micky Rosenfeld says over 90,000 attended prayers at the holy site.

Israeli security forces are on high alert as the Muslim fasting month begins this year amid heightened tensions along the Gaza border fence, after 61 Palestinians were killed there Monday by Israeli fire.

The high casualty count has drawn sharp international condemnations against Israel and accusations that it is using excessive force.

Israel accuses Hamas, the Islamic militant group that rules Gaza, of exploiting civilians and using the protests as cover for attacks.