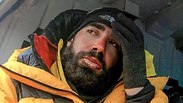 Nadav ben Yehuda
Photo: Ben Yehuda family
Israeli mountain climber thought dead, rescued alive
Mountain climber Nadav Ben Yehuda was rescued from Kangchenjunga mountain top after fellow climbers believed he had frozen to death; after spending entire night deprived of oxygen, food, water in sub-zero temperatures, he was rescued and evacuated to the hospital by a helicopter.
Israeli mountain climber Nadav Ben Yehuda was rescued from the Kangchenjunga mountaintop—which is part of the Himalayas and rises to 8,586 meters—over the weekend.

Despite the more than 20 long hours during which Ben Yehuda was deprived of oxygen and the extreme weather conditions he endured, he survived and was rescued while suffering from frostbite on many parts of his body.

Due to the fact that many parts of Ben Yehuda's body had completely frozen, he was unable to make a sound or move, leading other fellow mountain climbers who were with him to believe that he had frozen to death and to report him as dead.

The next day, however, it turned out Ben Yehuda was alive. Believing that he was on the brink of death, the other climbers had descended the mountain while contending with the rough weather conditions.

They assumed Ben Yehuda would not make it through the night, but when came morning they noticed his "body" had moved a few meters and realized he had tried to rescue himself.

"During the past 48 hours, word that our Nadav was killed close to the Kangchenjunga mountaintop has gotten out," Ben Yehuda's wife posted on her Facebook page.

"He was very close to dying, but Nadav didn't allow himself to and didn't want to become part of the ice, and he survived. Nadav is alive," she added with relief.

Ben Yehuda's rescue was carried out by a helicopter, which operated with considerable difficulty due to fierce weather conditions.

Ben Yehuda's mother and wife flew to Nepal Friday and have been by his side in the hospital until now. He is now conscious and has suffered from frostbite on many parts of his body.

Ben Yehuda's wife said he lost 17kg during the past month and a half and that he is very weak and recovering.

"We'll fly him to receive medical attention in Israel after his condition improves," she added.

The Phoenix Insurance Company Ltd. was the one to rescue Ben Yehuda from the 8,200 meters Kangchenjunga top on the India-Nepal border—the third highest mountain in the world.

The minute the company's emergency hot line was notified about his situation, it ordered a helicopter and a rescue team to make their way to Ben Yehuda's climbers group as they attempted to flee the treacherous mountain.

Once weather conditions had improved, the helicopter flew to evacuate Ben Yehuda to a hospital in Katmandu.