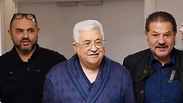 Abbas at the hospital
Photo: Reuters
Palestinian President Mahmoud Abbas is suffering from a lung infection and could remain in hospital for several days, Palestinian medics and officials said on Monday.

Abbas, 82, was admitted to hospital for the third time in less than a week on Sunday in the West Bank city of Ramallah.

Doctors initially said that the veteran leader had entered the hospital for medical tests after ear surgery five days earlier. But on Monday night they said he had a lung infection.

"Medical tests and X-rays showed the presence of inflammation in the right lung. Treatment began by giving the necessary medication," Dr. Saed al-Sarahneh, medical director of the private al-Istishari medical centre in Ramallah, told Palestine television.

"He is now responding to the treatment quickly and is recovering," the doctor said.

The veteran leader allowed himself to be filmed by Palestine television on Monday night, after nearly 36 hours in the hospital.

Abbas did not speak in the brief filmed clip that was broadcast Monday night, and his appearance after two days of rumours appeared to be an attempt to address questions about his health and the future of the Palestinian leadership.

Images released by Abbas' office showed him sitting in bed reading a newspaper and walking unassisted through the corridor of the hospital in a blue dressing gown flanked by a doctor, family and aides.

After two days of sparse updates from medical officials, a series of long-time associates and colleagues visited Abbas on Monday, emerging to give uniformly upbeat assessments of his condition.

Israeli member of Knesset Ahmad Tibi visited Abbas at the hospital on Monday, later writing on his Twitter page that the Palestinian leader was suffering from pneumonia and being treated with antibiotics and his health was "markedly improved."

"I walked down the hall with him and we spoke about different political issues. I estimate he will remain in the hospital for a few more days," Tibi wrote.

Jibril Rajoub, a senior official in Abbas' Fatah party, told Palestine television: "There is a consensus among doctors that the president is out of the danger area and he is well, but he will stay a few more days (in hospital) upon doctors advice." He said that Abbas had breakfasted with his sons Yasser and Tareq, had "responded well" and was now recovering.

A heavy smoker, Abbas was hospitalized in the United States for medical checks in February during a trip to address the UN.Security Council.

Abbas underwent minor ear surgery last Tuesday but went back into al-Istishari Hospital in Ramallah briefly overnight on Saturday/Sunday. He was then rushed back later that day, for what doctors described only as "medical tests."

A Palestinian official explained later that "Abbas returned to the hospital due to a spike in his body temperature. The fever was likely the result of an infection that developed in his ear after the operation."

Elior Levy contributed to this story.