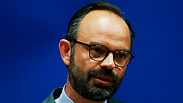 French Prime Minister Edouard Philippe
Photo: AFP
French PM cancels planned visit to Israel
Prime Minister Edouard Philippe was due to hold two-day visit to Israel to launch a French-Israeli cultural event, with his office citing pressing domestic policy matters as reason for cancelation, but some Israeli officials say real reason is the deadly clashes on Gaza border.
French Prime Minister Edouard Philippe on Wednesday canceled a planned two-day visit to Israel, which was set to take place at the end of the month, with his office citing domestic policy matters to be tended to in the coming days.

But some Israeli officials argued there was a different reason, claiming the French premier decided not to come to Israel because of the deadly protests on the Gaza border, and the way the trip might be perceived by the French public.

Philippe was scheduled to arrive on May 31 to launch a French-Israeli cultural event. As part of the same cultural initiative, Prime Minister Benjamin Netanyahu is scheduled to visit France in two weeks and meet with President Emmanuel Macron.

The governments of Israel and France have decided to mark 70 years to the establishment of diplomatic ties between the two nations with 120 events in different fields: innovation, modern art, cinema, dance, design, literature, music, theater and science. The events were to take place across the country over six months. The Israeli government even allocated NIS 6 million to the initiative.

On Tuesday, the Palestinian foreign minister asked the International Criminal Court to open an "immediate investigation" into alleged Israeli "crimes" committed against the Palestinian people.

The step was sure to worsen the already troubled relations between the Palestinian Authority (PA) and Prime Minister Benjamin Netanyahu's government. Peace talks have been frozen for over four years, and contacts between the two sides are minimal.

Speaking to reporters at the ICC in The Hague, Netherlands, Foreign Minister Riad Malki said he submitted the "referral" to the court during a meeting with the ICC's chief prosecutor, Fatou Bensouda.