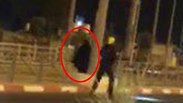 Border Police officers opened fire on a woman who they suspected aimed to harm them near Yekutiel Adam Street in Jerusalem.

The paramilitary soldiers said their suspicion was aroused after the woman started slowly approaching them, who was wearing a Burqa, which they feared may be concealing a weapon or an explosive device.

After the woman failed to heed their calls to stop, the security forces opened fire, aiming at her legs.

Video footage of the incident

Video footage of the incident shows the officers, stepping slowly backwards with weapons drawn and pointed directly at her, shouting in Arabic for the woman to stop while she keeps walking steadily towards them.

Several seconds later, a single gunshot is heard, and the woman is seen collapsing to the ground.

The woman was evacuated in moderate condition to Shaare Zedek Medical Center in the capital. No weapon was found in her possession.

An investigation into the incident has been opened.