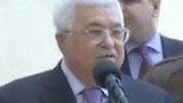 President Abbas leaves hospital after nine-day stay
Palestinian Authority president Mahmoud Abbas, an 82-year-old heavy smoker, discharged from hospital in Ramallah after prolonged stay for what officials say was a lung infection; 'Thank God I am leaving the hospital in good health and I will return to work tomorrow' Abbas says outside the hospital.
Palestinian President Mahmoud Abbas was released from hospital on Monday after an nine-day stay and treatment for what officials said was a lung infection.

"Thank God I am leaving the hospital in good health and I will return to work tomorrow," the 82-year-old leader, dressed in a suit and smiling, told reporters before walking out of the hospital in the city of Ramallah in the West Bank.

"We will achieve our own independent state and its capital will be Jerusalem," he added. "I am grateful to you all and wish our people good health and wish that we move ahead with our goal—an independent state of Palestine. I am leaving the hospital and we say—Jerusalem is the capital of Palestine."

President Abbas leaving hospital

Abbas, who is a heavy smoker, was admitted on May 20 for what doctors had initially said were medical tests following ear surgery. Officials later said he was being treated for pneumonia.

Abbas, who was also hospitalized for medical checks during a trip to address the UN Security Council in February, became president after the death in 2004 of Yasser Arafat.

The Western-backed president pursued US-led peace talks with Israel but these broke down in 2014 and his democratic mandate expired eight years ago.

There has been no presidential election since 2005 and the term of office is only five years. His authority is essentially limited to the West Bank, with the terror group Hamas in control of the Gaza Strip.