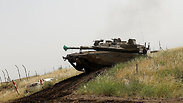 File photo of IDF tank
Photo: Reuters
IDF pounds Gaza targets after PM vows 'heavy price' for mortar salvo
Retaliating to barrage of 28 mortar shells fired into Israel, military begins assault on Islamic Jihad targets after Netanyahu convenes urgent security meeting and vows to respond with 'great power'; PM removes erroneous Twitter post claiming 57 rockets were fired.
The IDF began hitting Palestinian Islamic Jihad targets on Tuesday as Prime Minister Benjamin Netanyahu vowed to respond with "great power" against a flurry of 28 rockets that were fired into Israeli towns bordering the Gaza Strip earlier.

"Israel views gravely the attacks against it and against its communities by Hamas and the Islamic Jihad from the Gaza Strip," the prime minister said at the Ma'alot-Tarshiha Galilee Conference. The IDF will respond with great power to these attacks. Israel will exact a heavy price and I see Hamas as bearing responsibility."

Israeli jets began dropping bombs at what security officials in Gaza called Islamic Jihad militant training site. Smoke was seen rising near the town of Deir al-Balah in the coastal strip and the Israeli military said the explosions there were related to its activity. No injuries were reported.

Despite the number of mortar shells fired from Gaza on Tuesday morning standing at 28, Netanyahu more than doubled the figure in an original post that was later removed on his Twitter feed.

"Peaceful protests? 57 rockets were fired at Israeli civilians, including at a kindergarten. Share the truth," he wrote in an apparent error before removing the post and launching a fresh edited statement which said "dozens."

One person was lightly injured in the rapid barrage which began at 6:59am, triggering 24 consecutive Code Red alert sirens to blare throughout the region, and local residents were told shortly after they could leave their bomb shelters and return to normality.

A Hamas spokesperson said: "Israel will fail in an attempt to change the rules of the conflict and establish a new equation on the ground. The resistance in Gaza reserves the right to respond and to remain silent in accordance with the interests of our people, and this is not due to weakness."

"We are sticking to the right of return as well as responding to the Zionist crimes," said Khaled al-Batsh, an Islamic Jihad leader in Gaza.

Ismail Radwan, a Hamas official, said the barrage proved that the "resistance is capable of hurting the occupation and it proved this today by responding to its crimes."

Radwan spoke as two fishing boats carrying students and medical patients set sail out of Gaza City's port, aiming to break 11 years of naval blockade that Egypt and Israel imposed after the mterror group violently took control of the coastal territory.

During his speech, Netanyahu addressed the military situation in Syria, reiterating his intention to enforce Israel's red lines.

"I have made clear many times what our red lines are and we are enforcing them without compromise. Iran cannot be allowed to militarily entrench itself in Syrian and act from there against us or to transfer a lethal weapon from Syria to Lebanon or manufacture one in Lebanon" he said, a day after Russian Foreign Minister Sergei Lavrov said that only Syrian government troops should have a presence on Syria's southern border.

However, Netanyahu made clear that Lavrov's staements would not suffice in allaying Israeli concerns. "I want to clarify something: We are working against Iranian military entrenchment in any of Syria's territory. We will not make do with the removal of Iranian forces from south Syria alone," he said.

"The long-range missiles that Iran is working to install in Syria will endanger us, as it also will beyond a distance of a few kilometers from south Syria. Therefore, Iran must completely leave Syria," the premier explained.

Israel recently notified Russia of its decision to expand its "red lines"—as it pertains to operations against Iran in Syria—to the entirety of its northern neighbor's territory rather than just the southern portion of the country as it had so far, the Asharq Al-Awsat newspaper reported.

Regarding reports that Israel and Russia had reached an understanding on returning Syrian President Bashar al-Assad's army to the border on the Golan Heights and the full removal of Iranian forces, Netanyahu indicated that a full agreement had yet to have been reached.

"We don't share an understanding as if we agreed to less than (a full Iranian withdrawal). In any event, we will always work in the interests of our security with or without understandings," he said. "We will defend ourselves as an independent force, determined to ensure our security and our future.

As Netanyahu spoke, United Nations Special Coordinator for the Middle East Peace Process, Nickolay Mladenov also condemned the rocket fire from Gaza.

"I am deeply concerned by the indiscriminate firing of rockets by Palestinian militants from Gaza towards communities in Southern Israel. At least one of which hit in the immediate vicinity of a kindergarten and could have killed or injured children," the said in a statement.

"Such attacks are unacceptable and undermine the serious efforts by the international community to improve the situation in Gaza. All parties must exercise restraint, avoid escalation and prevent incidents that jeopardize the lives of Palestinians and Israelis."

Associated Press contributed to this report.