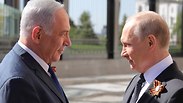 PM Netanyahu (L) and Russian President Putin
Photo: EPA
Israel notifies Russia of redrawing of Iran 'red lines'
Abandoning limitations on operating only in southern Syria, Jerusalem reportedly notifies Moscow it will now operate all across its northern neighbor; Arabic Sky News reports 21 people killed in Homs strike Thursday, 9 of them Iranian; Islamic republic's official press agency denies claim.
Israel has notified Russia of its decision to expand its "red lines"—as it pertains to operations against Iran in Syria—to the entirety of its northern neighbor's territory rather than just the southern portion of the country as it had so far, the Asharq Al-Awsat newspaper reported Saturday evening.

Israel initially offered no comment on the report by the London-based pan-Arab paper.

On a possibly related matter, Arabic-language Sky News reported that in the strike in the Homs province of Syria earlier this week—attributed to the Israeli Air Force—21 people were killed, nine of whom were Iranian. Sky News was the only outlet reporting the figures.

The claim was later refuted by Iran's official news agency IRNA, which stated the strike led to no Iranian casualties.

British-based war monitor the Syrian Observatory for Human Rights reported Friday that the overnight strike—seemingly by Israel—targeted a base occupied by Hezbollah operatives and weapons caches.

Alleged footage of the strike in Homs

The Dabaa base, according to the Observatory's report, also housed combatants belonging to other militias allied to Syrian President Bashar Assad, and that it was unclear whether the strike caused any deaths.

The pro-Hezbollah Lebanese daily Al-Akhbar, meanwhile, reported that the strike was the most significant since the so-called "Night of Missiles"—when 32 missiles were launched by the elite Iranian Quds Force earlier in the month, prompting a crushing Israeli response that reportedly left eleven Iranians dead.

Despite the Syrian army's claim that its aerial defense systems shot back at the missiles and jets, several hits to the airfield were documented, the paper further reported.

Al-Akhbar then went on to say no operational airborne activities were being launched from the base, but that it did house several storerooms and command centers. The region of the base was previously targeted by a tripartite American-British-French assault recently, after allegations it was being used to manufacture chemical weapons.

Rami Abdurrahman, director of the Syrian Observatory for Human Rights, said Thursday that six missiles were fired at the Dabaa military airbase and its vicinity in southwestern Homs, hitting Hezbollah weapons caches.

The base is just north of the city of Al-Qusayr, which Hezbollah overtook in 2013 from Syrian rebel forces. The city's capture marked a turning point in the Shiite terror group's involvement in the years' long Syrian civil war.