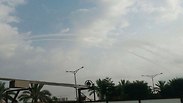 Iron Dome intercepts rockets
28 mortar shells fired from Gaza, 1 lands in kindergarten
Israel's southern residents awoken to sounds of 24 consecutive Code Red alerts after barrage of mortar shells are launched by terrorists from Gaza Strip; military says vast majority were intercepted by Iron Dome or landed in open space, IDF tanks said to have hit Hamas outpost; one lightly injured.
A salvo of twenty-eight mortar shells were fired on Tuesday morning at Israeli towns surrounding the Gaza Strip, with at least two exploding inside the communities, one in a kindergarten yard.

One person was lightly injured in the rapid barrage which began at 6:59am, triggering 24 consecutive Code Red alert sirens to blare throughout the region, and local residents were told shortly after they could leave their bomb shelters and return to normality.

A gardener was lightly wounded in his hand from shrapnel and was taken to Soroka University Medical Center in Be'er Sheva where he received treatment.

However, another Code Red alert wailed across the Eshkol Regional Council at 8:02am as two more mortars exploded.

At round 9:45am, yet another mortar was fired from Gaza which landed in open space near an Israeli community in the the same area.

According to the IDF, the majority of the projectiles were intercepted by the Iron Dome missile defense system. A number of the shells also fell in open space near the Israeli towns.

"A barrage of 25 mortar shells were launched towards several sites in Israeli territory. Most of the launches were intercepted by the IDF's Iron Dome aerial defense system," the military said in a statement.

Palestinian reports later said that IDF tanks struck a Hamas outpost in Gaza.

A spokesman for the Palestinian Islamic Jihad terror movement praised the mortar shell barrage as a "blessed retaliation of resistance."

"Our people's blood is not cheap and Israel can't continue spilling it without deterrence," he added.

Amid the heightened tensions, Prime Minister Benjamin Netanyahu called for a security consultation at the Prime Minister's Office, with intelligence officials set to attend.

Foreign Ministry Spokesman Emmanuel Nahshon issued a statement shortly after the rocket fire. "Mortar fire from Gaza, including one which fell next to a kindergarten, demonstrates the severe danger that Hamas constitutes for the citizens of Israel," he wrote on his Twitter page.

"There is no country that would accept threats of these kinds against its citizens, and we also will not accept them."

On Monday, Israeli tank fire killed a Hamas terrorist at a frontier outpost while soldiers chased down and caught two other Gazan militants who tried to cross into Israel.

The Palestinians arrested were found with knives, bolt cutters and an incendiary material on their person. The Israeli soldiers came under fire while the terrorists were being chased. No Israeli casualties were reported and the forces returned fire, killing at least one member of Hamas's military wing while wounding another moderately.

Also on Monday evening, several Sderot structures and vehicles were hit by machinegun fire from the Gaza Strip, which triggered a Code Red alarm in the town and nearby communities in the Sha'ar HaNegev Regional Council. No casualties were reported.

The machinegun shooting came in the wake of several tense days in the border region, that saw several infiltration attempts by Palestinians followed by IDF retaliatory attacks.

IDF Spokesperson Ronen Manelis on Sunday warned the Palestinain Islamic Jihad not to "play with fire" after the terror organization threatened retaliation over the IDF's Saturday attack against Hamas posts in Gaza, which claimed the lives of three of its members.

In a post he published on Facebook, Manelis reiterated that the strike targeted a Hamas military complex, and that it was carried out in retaliation to Palestinians infiltrating into Israel earlier in the day to plant an explosive charge along the border.

The latest incidents follow weeks of Palestinian mass-demonstrations along the border, which Israel has argued is used as a cover for attempts to breach the border fence.

Reuters contributed to this report.