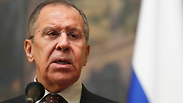 Russian Foreign Minister Lavrov
Photo: EPA
Russia: Only Syrian army should be on country's southern border
In apparent move to calm tensions between Israel and Iranian proxies such as the Hezbollah terror group in the war-torn state, Russia potentially allays Israeli concerns over Iranian-sponsored militias' close proximity to its northern frontier.
Russian Foreign Minister Sergei Lavrov said on Monday that only Syrian government troops should have a presence on Syria's southern border, which is close to Jordan and Israel.

Rebels hold stretches of that area and intensive Israeli airstrikes in Syria this month were prompted by what Jerusalem said was Iranian rocket fire from the area into the Golan Heights.

Prime Minister Benjamin Netanyahu backed Russia's assertion, though emphasized that Iran not only has no place in Syria's south, but in Syria in general.


"Our position on Syria is clear," Prime Minister Benjamin Netanyahu told his parliamentary faction in broadcast remarks. "We believe that there is no place for any Iranian military presence, anywhere in Syria."

Russia and Iran are close allies of Syrian President Bashar al-Assad.

"Of course, the withdrawal of all non-Syrian forces must be carried out on a mutual basis, this should be a two-way street," Lavrov said at a joint news conference in Moscow with Jose Condungua Pacheco, his counterpart from Mozambique.

"The result of this work which should continue and is continuing should be a situation when representatives of the Syrian Arab Republic's army stand at Syria's border with Israel," Lavrov said.

The Syrian Observatory for Human Rights has reported Syrian army movements into the south and state media have reported leaflet drops on rebel-held areas there urging insurgents to accept government rule, two signs a military offensive may be coming.

Meanwhile, Jordan said on Monday it was discussing developments in southern Syria with Washington and Moscow and that all three parties agreed on the need to preserve a "de-escalation" zone they brokered last year and which has reduced violence.

A senior official who requested anonymity told Reuters the three countries that signed last year's deal to create the zone "saw eye to eye" on the need to preserve it as a key step to "accelerate efforts to reach a political solution" in Syria.

The truce—the first US peacekeeping effort in the war under Donald Trump's presidency—has reduced violence in a particularly sensitive region that includes Syrian territory bordering Israel.