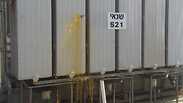 Energy infrastructure hit by mortar fragmentation
Photo: IEC
Gaza homes lose power due to errant militant mortar fire
Mortar bombs fired by Gaza militants land on facilities near strip's border with Israel that supply coastal enclave with electricity, causing blackouts in southern part of the strip; malfunctions will take several days to fix, Israel Electric Corporation says, but Energy Minister Steinitz instructed to hold off until calm prevails.
The southern part of the Gaza Strip have been cut off from Israel's electricity supply after errant mortar shells fired by Gaza militants landed on energy facilities near the border.

The Israel Electric Corporation said that according to a preliminary assessment, it will take several days to repair the equipment in order to restore regular power supply to the strip.

Energy Minister Yuval Steinitz instructed IEC not to endanger its employees, however, and to fix the problem only after a lull in firing from the coastal enclave.

Kamil Abu Rokon, IDF's new Coordinator of Government Activities in the Territories, informed Gaza residents of the accident in an address urging them to renounce Gaza's terror groups.

"It is time to wake up and understand that Hamas and Palestinian Islamic Jihad are using you as hostages in their attempts to escalate the situation at your expense, when you are the ones who are harmed first and foremost," he wrote on Arabic in his his Facebook page.

Both Steinitz and Justice Minister Ayelet Shaked said Tuesday the option to retake the strip to rid it of Hamas was "on the table."

There is one power station in Gaza, constructed in 2002; it operates on diesel. Its maximum output is 140 megawatts a day but it currently only produces 60-80. Israel supplies the strip with an additional 120 megawatts daily and Egypt sends about 30, for a total of about 200 megawatts a day—while its actual needs are about 400 megawatts.

For the past few years, Gaza residents received about six to eight hours of electricity a day. The rest of the time residents were forced to use private generators for their homes. The problem worsened every few years as the Palestinian Authority (PA), which pays for the diesel, insists that Hamas pay the taxes on the fuel purchased from Israel, while Hamas refuses, all while charging Gaza residents for their use.

These disputes caused further tensions in the already strained relationship between the two factions, and the PA proceeded to decrease the amount of diesel it sends to Gaza, leading to to less hours of electricity for the enclave's citizenry.

During the height of winter, the average home in Gaza received only three to four hours of electricity daily, and that is what led to the recent public outcry.

Yoav Zitun and Ilana Curiel contributed to this article.