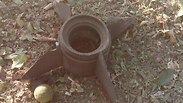 Rocket that landed inside Israel
Photo: Or Mazuz
Hamas has seemingly decided to stop the massive rocket fire from the Gaza Strip starting 1am Wednesday and has redeployed its forces to stop other Palestinian factions from launching more projectiles, according to Israeli defense officials.

"The IDF has delivered a significant blow in Gaza last night," a senior defense official said on Wednesday morning. "There have been no rockets fired since this morning. Israel sent a message that if the fire does resume, the strikes on Hamas and its satellite groups will increase further. Now, actions will determine where we're headed."

He went on to say that "Israel has been operating in recent months with force and determination against any attempt to violate its sovereignty and/or undermine the security of the residents of the south, and will continue operating with force against any attempt to violate the peace."

The rocket fire during the night—which included a rocket that landed in a stadium in Netivot and another that caused heavy damage to a home in the Eshkol Regional Council—was carried out by rebellious groups, including the Popular Resistance Committees.

In less than 24 hours, over 100 rockets and mortar shells were fired at Israel, with some 40 intercepted by the Iron Dome missile defense system. Most of the launches were carried out with the help of timers, making it harder on the IDF to track perpetrators before or after a launch.

In retaliation to the Gaza fire at Israel throughout the day Tuesday, Israeli Air Force fighter jets, helicopter and other aircrafts attacked about 25 Hamas terror targets in the strip, starting at 11:30pm.

The IDF said that among the targets were drone storage facilities, rocket and armament manufacturing installations, training camps, military installations, advanced naval armaments and antiaircraft missile components. However, the IDF did not target homes of commanders in the terror groups or mounted any targeted killings.

The most recent strikes joined some 40 sites targeted Tuesday, totaling 65 targets since Tuesday.

In an effort to return to normalcy in the strip, the IDF is allowing fishing in an extended zone of 9 miles from the Gaza shore, as well as keeping the Erez and Kerem Shalom border crossings open on Wednesday.