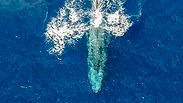 Eilat's blue whale
Photo: Marcos Schönholz
WATCH: First blue whale sighting documented in Eilat
The specimen, with a length of up to 20 meters, was spotted for a few hours in the Gulf of Eilat while hunting for food, only 300 meters from the beach, before continuing south to Egypt; researchers who reviewed documentation assume it was a blue whale, marking the species' first documented visit to the gulf.
A blue whale, considered the largest of all whale species, was spotted in a first ever documented visit in the Gulf of Eilat and the Red Sea Tuesday, Israeli marine researchers reported.

Whales of this kind can reach up to 33 meters and weigh up to 130 tons. Up until 1965, hundreds of thousands of the species' members were hunted commercially, until a worldwide ban prevented their extinction.

Blue whale spotted near Eilat (צילום: Marcos Schönholz)

Today, according to International Union for Conservation of Nature data, less than 12,000 of the endangered aquatic mammals exist in the wild.

Israel's Nature and Parks Authority, in conjunction with researchers from the Israel Marine Mammal Research & Assistance Center (IMMRAC) and marine mammal researchers from abroad reviewed the different media documenting the whale and initially presumed it was a humpback whale or a Bryde's whale, previously spotted in the Red Sea.

The latest estimate, however, said it was a blue whale 15 or 20 meters long.
First evidence of blue in gulf of Eilat
Dafna Feingold, who coordinates aquatic mammal data for the IMMRAC, noted that, "This is the first piece of evidence of the existence of a new species in the Red Sea. It's the first time unequivocal photographic proof of a blue whale in the Gulf of Suez and the Red Sea came to light."

Feingold said the specimen seems to have not reached its full size yet, and that its arrival in Israel did not necessarily mean it was in poor health condition. She added that while it was possible a blue whale may have previously visited Israel's shores, this was the first time one was actually documented.

"The reason they aren't often seen in our region is that they don't have enough food (here), and I imagine it will be making its way to the southern Red Sea before long," she explained.

Dr. Assaf Zvuloni, head biologist of the national marine reserve in Eilat, added that, "Israel and the gulf of Eilat were a long way away from its area of distribution. The size of the specimen was observed to be at least 20 meters, based on measurements comparing it to IMMRAC's pier."

The biologist also added that the whale may actually be larger when taking into account parts of its body that were not visible under the water.

""This is a highly exciting sighting. Whales sometimes migrate great distances," he said. "On occasion, certain specimens increase their migrations range. This wasn't the first time whales have been sighted in the Gulf of Eilat, but never one of this size."
'Moving to see an immense whale in the wild'
Omri Omasi, a marine inspector for the Nature and Parks Authority's fishery supervision division, recounted the sighting was made when he embarked on a routine tour of the bay.

"We received reports of a large whale shark in the late morning, followed by reports of a whale. Mostly initial reports cite large animals, and then the closer you get, you usually discover it's a smaller animal. In this instance, we were surprised to find a very large marine mammal," he recalled.

At first, Omasi said he maintained a distance of about a hundred meters from the whale so as not to disturb it on its path. "It was making long, uniform strokes, from north to south, sometimes changing direction or depth," he said.

"It was hard to assume whether any other specimens were present in the area. It's moving to see such an immense whale in the world. It's hard to gauge its length, because you only see parts of it when it goes up to the water's surface to breathe," the inspector added.

"When we got additional reports of the whale on comm. networks, boats arrived and tried getting close—a little too close. Even in encounters with such special and rare animals, it's important to allow nature to take its course uninterrupted," he noted.
'Endlessly lucky to see whale in Israel'
Yoav Lindman, a doctoral candidate from the Inter-University Institute for Marine Sciences in Eilat, set sail with a team from the institute to try and locate the whale.

"Reports come in about rare animals in the Gulf of Eilat, but this is a very rare instance. There have been three sightings of humpback whales in Eilat thus far, with no other whales sighted," he said.

"It popped up to breathe in a different location each time," he continued. "When you see that it's twice as big as a seven meter long boat, that's incredibly pleasing. The boat disturbed him, however, so we tried to keep to a safe distance."

"I watched whales abroad, but this feels infinitely lucky to see one in Israel. There aren't immense amounts of plankton for it to eat, and we saw him continuing south until it left to search for food elsewhere," he concluded.

Maya Zilber, who oversees the dolphins in Eilat's Dolphin Reef, shared that when reports of the whale started pouring in, a local team went out to look for it. "It was the first time I've ever seen a blue whale, and we kept our distance. It was a very slow moving whale," she said.

Dafna Feingold added that when examining the photographs it was also apparent it was a very slim whale. "Usually a layer of fat and muscle exists around the spine. Photos, however, showed the spine protruding with a concaving towards the inside of the body on both ends. There wasn't any fatty mass you'd expect to see," she noted.

Members of the Nature and Parks Authority accompanied the whale as it progressed outside of Israel's borders, and bid it farewell as it continued its travels towards Egypt.