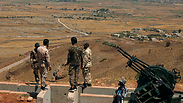 Syrian rebel forces near Golan Heights
Photo: Reuters
A Syrian war monitor says Iranian troops and fighters of Lebanon's Hezbollah group are getting ready to withdraw from southern Syria.

The Britain-based Syrian Observatory for Human Rights said Thursday Iranian advisers and Hezbollah fighters will be withdrawing from the southern regions of Daraa and Quneitra near Israel's Golan Heights.

A Syria-based official with the Iran-led axis of resistance denied the report saying it is "untrue." The official, who spoke on condition of anonymity because he was not authorized to speak to the media, gave no further details.




Russian news outlets had recently reported that Moscow wants to cut a deal that would see Russian military police deployed to areas near Israel. The agreement would envisage the pullout of all Iranian forces from the area and require Syrian rebels to surrender heavy weapons.

Meanwhile, President Vladimir Putin had a call with Israeli Prime Minister Benjamin Netanyahu to discuss the situation in Syria.

The Kremlin said the conversation focused on "some aspects of the Syrian settlement," which it didn't specify, following up on the two leaders' talks in Moscow earlier this month.

The Syrian government's plans to recapture rebel-held areas near the border raised Israeli concerns that its backers—Iran and the Lebanese militant group Hezbollah—could take up positions along the frontier. Netanyahu has warned that his government would not allow Iran to maintain a permanent military presence anywhere inside Syria.

The phone call came as Israeli Defense Minister Avigdor Lieberman was visiting Moscow Thursday for talks on the situation along Syria's border with Israel.

The meeting took place at the Russian Ministry of Defense in Russia's capital and took more than an hour and a half. It dealt with security issues concerning the two countries and security coordination between them, the situation in Syria, and Israel's efforts to prevent Iran from establishing itself in Syria.

The report on the Iranian pullout came shortly after Syrian President Bashar Assad rebuffed claims of an Iranian military presence in his country.

In an interview with Russia Today, Assad said Iran's presence in Syria was limited to officers who were assisting the Syrian army. Apparently referring to the May 10 attack by Israel, the Syrian president said "we had tens of Syrian martyrs and wounded soldiers, not a single Iranian" casualty.

However, Iran-backed militias, including Lebanon's Hezbollah terror group, have played a big role in support of Assad during the conflict. Iran's Revolutionary Guards have also deployed in the country.

In response, Energy Minister Yuval Steinitz accused Assad of lying, calling his interview "cheap propaganda."

"There are Iranian forces and there is Iranian presence in Syria, everybody knows that. Iranian troops and even a general were killed in Syria, both recently and in the past," Steinitz told Ynet in an interview.

"This isn't the first time Assad has lied. He also said there were no chemical weapons in Syria, and that he never used chemical weapons—and we know the truth behind that," he went on to say. "Assad allowed the Iranians, Hezbollah and the Shiite militias supported by Iran to enter Syria. Furthermore, recently, an Iranian drone infiltrated Israel—coming from Syrian territory—and was shot down. Who operated it? Where did it come from?"

Yoav Zitun, Alexandra Lukash and Nir Cohen contributed to this article.