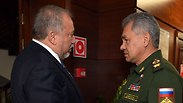 Lieberman (L) and Shoygu
Photo: Defense Ministry
Def. Min. Lieberman meets with Russian counterpart for talks on Syria, Iran
Israel's and Russia's Defense Minister meet for talks on security coordination in Syria, Iran's influence in the region and Israel's plans against it as Syria's president denies Iranian military presence in his country, while reports say Iranian troops are preparing to leave Syria's south.
Defense Minister Avigdor Lieberman met in Moscow Thursday with his Russian counterpart Sergey Shoygu to discuss the situation in Syria and Iran's presence there.

"The State of Israel appreciates Russia's understanding of our security needs," Lieberman told his counterpart. "It is important to continue our dialogue and keep the open line between the IDF and the Russian army on all the issues on the agenda."

The meeting took place at the Russian Ministry of Defense in Russia's capital and took more than an hour and a half. It dealt with security issues concerning the two countries and security coordination between them, the situation in Syria, and Israel's efforts to prevent Iran from establishing itself in Syria.


The meeting was also attended by the head of Military Intelligence, Maj. Gen. Tamir Heiman, the head of the Defense Ministry's diplomatic-security department, Zohar Palti, and others.

At the same time, a Syrian war monitor reported that Iranian troops and fighters of Lebanon's Hezbollah group are preparing to withdraw from southern Syria.

The Britain-based Syrian Observatory for Human Rights said Thursday Iranian advisers and Hezbollah fighters will be withdrawing from the southern regions of Daraa and Quneitra near the Golan Heights.

Syrian officials denied this report, backing President Bashar Assad's denial of any Iranian military presence in his country, made earlier Thursday in an interview with Russia Today.

Energy Minister Yuval Steinitz accused Assad of lying, calling his interview "cheap propaganda."

"There are Iranian forces and there is Iranian presence in Syria, everybody knows that. Iranian troops and even a general were killed in Syria, both recently and in the past," Steinitz told Ynet in an interview.

"This isn't the first time Assad has lied. He also said there were no chemical weapons in Syria, and that he never used chemical weapons—and we know the truth behind that," he went on to say. "Assad allowed the Iranians, Hezbollah and the Shiite militias supported by Iran to enter Syria. Furthermore, recently, an Iranian drone infiltrated Israel—coming from Syrian territory—and was shot down. Who operated it? Where did it come from?"

Yoav Zitun, Alexandra Lukash and Nir Cohen contributed to this article.