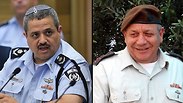 Police Commissioner Alsheikh (L) and IDF Chief of Staff Eisenkot
Photo: Alex Kolomoisky, Yariv Katz
MK Tzipi Livni (Zionist Union) submitted bills seeking to impose set limits on the terms of Israel's police commissioner and IDF chief of staff—setting a four year limit—instead of the current situation in which the government convenes to discuss extending their terms.

The bills deal with the police and army chief separately, and the recent outcry surrounding the extension of current police chief Roni Alsheikh for a further four years, with Alsheikh publicly stating a three year term was insufficient.

A similar bill by Yesh Atid lawmaker Elazar Stern was submitted December 2015. In early May, it went up to a preliminary reading in the Knesset but no vote took place. The bill is currently being discussed by Stern and Coalition Chairman David Amsalem, who has been tasked with handling it opposite the Prime Minister's Office.

The explanatory notes for the bill dealing with the commissioner's term remark that the police chief is appointed by the government according to the public security minister's recommendation, and the chief's responsibilities are defined the same way.

The law does not currently stipulate, however, preconditions for eligibility to serve in the role, term limits or a mechanism for finding a replacement when the chief is incapable of administering his duties.

Considering the paramount importance of the role, the bill stated guidelines should be set and regulated procedures put in place as it pertains to term limits and replacements, to "ensure the preservation consecutiveness in the police's command, and to prevent a dependency on the government for decisions that may relate to its members."

The bill regarding the chief of staff's term explains the IDF's head is a subordinate of the government in general and the defense minister in particular, and that the chief of staff is appointed by the government according to the defense minister's recommendation.

However, the bill's remarks said, once again no term limits have been set. Uncertainty in such a sensitive role—and the attendant dependency on the government, should be prevented.

MK Livni herself said, "Set terms are necessary, and the law must allow the heads of the police and the army to be freed of all outside considerations—even when facing the government—and without the option of extension being dangled in their faces."