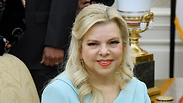 PM Netanyahu's wife Sara
Photo: MCT
PM Netanyahu's wife reportedly tried to assault outgoing PMO director-general
Sara Netanyahu allegedly lunged at, held back from attacking Director-General Eli Groner over disagreement on state financing for Netanyahu couple's private Caesarea residence; Mrs. Netanyahu: 'Tendentious, malicious fabrications'; PM Netanyahu: 'More Sarna-style fables'; Groner himself refuted report.
Prime Minister Benjamin Netanyahu's wife Sara allegedly attempted to physically assault resigning director-general of the Prime Minister's Office (PMO) Eli Groner, Haaretz reported Thursday.

According to the report, which is based on sources within the PMO, another official separated the two and Groner was left unscathed. The confrontation stemmed from a disagreement surrounding state funding for the expenses of the Netanyahu couple's private residence in Caesarea, the report said.

Mrs. Netanyahu responded to the allegations in a videotaped response, saying, "I have no words to describe the absurdity of these lies, which have been going on for more than 20 years."

Said lies, she alleged, were "tendentious and malicious fabrications by the Israeli media" which only served to show how "petty, absurd and small" the media's alleged campaign against her and her husband was.

Prime Minister Netanyahu, meanwhile, said he pined for the day the media said a "single word of truth" about his wife as a "wife, mother and daughter who does so much good for the Israeli public—from soldiers to bereaved families and Holocaust survivors. But that day seems far."

Groner himself disavowed the report, with a statement on behalf of the prime minister saying these were merely "more Sarna-style fables," referring to journalist Igal Sarna who was ordered by the court last year to pay Netanyahu and his wife NIS 100,000 ($28,000) after having lost a libel suit.

The director-general notified Prime Minister Netanyahu this week of his intention to depart the position at the conclusion of the Knesset's summer session. Since Groner was appointed to the role in 2015, reports surfaced of acrimony between him and Mrs. Netanyahu regarding financing the Caesarea residence's expenses.

The reported incident allegedly took place January of this year. "The conversation reached discordant tones, and at some point (Mrs.) Netanyahu lunged at Groner, but was blocked and then held back by the official," the report said.

It was further maintained that Groner considered resigning, but PMO Chief of Staff Yoav Horowitz promised him the prime minister will act to prevent such incidents from happening again.

Before entering the Prime Minister's Office, Groner served as Israel's economic legate to Washington, as well as several senior positions in the business sector, including in companies such as the management consulting firm McKinsey & Company and dairy giant Tnuva.

As part of his role under the premier, Groner led administrative work and strategic policy planning at the Prime Minister's Office and on behalf of the prime minister in a variety of economic, social and civil fields.