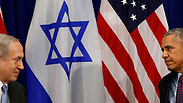 PM Netanyahu and Obama
Photo: Reuters
Netanyahu backed Obama in turning to Congress for Syria strike
Excerpt of new memoir by former Deputy National Security Advisor Ben Rhodes claims Israeli premier told Obama in a phone call 'Your decision was right ... history will be kinder than public opinion'; Israel also enlisted AIPAC to exert pressure on Congress to authorize a strike.
Prime Minister Benjamin Netanyahu told former US President Barack Obama that his decision to seek congressional support for any American strike on the Assad regime in the wake of the use of chemical weapons was the correct decision, according to a new memoir by former Deputy National Security Advisor for Strategic Communications Ben Rhodes.

In an excerpt in The Atlantic of the book, which will be published on Tuesday, Rhodes describe the events which almost brought the Obama administration to the brink of a military confrontation with Syrian President Bashar Assad's regime.

According to Rhodes, the administration had all but decided to launch a cruise missile attack on Syria after chemical weapons were launched in August 2013. However, fearing a public backlash against a presidential decision to strike and risk dragging the war-wary country into yet another conflict, Obama sought to marshal Congress behind him before taking action, a decision which Rhodes says was praised by Netanyahu.

"Obama called a couple of foreign leaders, including Israeli Prime Minister Benjamin Netanyahu. Your decision was right, Netanyahu said, and history will be kinder than public opinion," Rhodes wrote.

As Obama attempted to rally congressmen behind the strike on Syria, he received support from pro-Israeli lobbyists headed by the American Israel Public Affairs Committee (AIPAC).

Despite frosty relations between the two, Netanyahu also supported Obama in his bid to gain overall support from Congress.

Senior Israeli officials who were close to Netanyahu told Ynet that the Israeli premier held discussions with congressmen, administration officials and AIPAC representatives in an effort to explain the importance of conducting a military strike against the Assad regime following its use of Sarin gas, which killed over 1,000 people.

Ron Dermer, who was set to take up the post of Israel's ambassador to Washington, was also enlisted to explain Jerusalem's position.

Israel has officially maintained its silence on the matter, insisting that any US strike was a matter of domestic consideration only. However, the intimate involvement of AIPAC, which receives dozens of briefings and pieces of information from Israeli diplomats on sensitive matters regarding Israel, such as the Iranian nuclear program and the war in Syria, points to the fact that Israel did not play a passive role in the issue, as it advocated an attack in Syria in retaliation for the use of chemical weapons.

In addition, 250 people from AIPAC were expected to flood Capitol Hill ahead of the historic vote, in order to put pressure on members of Congress to support the attack.

After Obama announced his decision to garner support from Congress, Israel stated on the record that the president had to be "given a chance".

"His obligation to act is extremely important and we need to wait to see what he does," some Israeli officials said. However, others in Jerusalem expressed concern over what appeared to be Obama's excessive hesitation in conveying a message to Assad. Fears also increased in Israel that Obama had inhibited his ability to act by approaching Congress, and therefore risked losing confidence in the US in the Middle East.