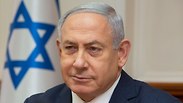 Prime Minister Benjamin Netanyahu
Photo: EPA
Shin Bet uncovers terrorist cell that planned to target Netanyahu, Barkat
General security service arrests three members of a cell guided by a terror operative from Syria, which planned attacks against senior Israeli officials, including the prime minister and Jerusalem mayor; one of the suspects allegedly planned attacks against American and Canadian targets as well.
The Shin Bet uncovered and thwarted a terrorist cell guided by a terror operative from Syria, which had planned to target senior Israeli officials, including Prime Minister Benjamin Netanyahu and Jerusalem Mayor Nir Barkat.

According to information cleared for publication on Tuesday, three members of the Popular Front for the Liberation of Palestine were arrested in the affair. The three were indicted on Sunday.

One of the suspects is Muhammad Jamal Rashdeh, 30, from the Shuafat refugee camp in east Jerusalem, who holds an Israeli identity card and has served time in prison in the past for terrorist activity. The investigation revealed that he had planned the attacks with guidance from terrorist elements abroad, including a terror operative from Syria.

Rashdeh had allegedly also planned terror attacks against buildings belonging to the American Consulate and against a delegation of Canadian representatives staying in Jerusalem in a bid to train the Palestinian Authority forces in the West Bank.

The cell had planned to bring in a terror operative from Jordan to help execute some of the attacks.

The Shin Bet investigation revealed that Rashdeh had carried out preliminary moves to collect intelligence on his targets, following orders received from the terror operative in Syria.

Two other suspects were detained later on. According to the Shin Bet, their interrogation verified the suspects and added information concerning the cell's activity.

Intelligence Minister Yisrael Katz told Ynet on Tuesday that the affair "shows that there are terrorist headquarters in Syria as well and, unfortunately, in Turkey too—Hamas headquarters that are directed to carry out attacks against targets in Israel. The security forces' job is to thwart it way before its possible execution."

As for the plan to target the prime minister, Katz said that "the security around him is very tight and the prevention activity is very significant. Every day, by the way, there are attempts to export terror attacks into the State of Israel, and the general security services and the other security organizations are engaged in amazing prevention activity on a daily basis, 99 percent of which the public is unaware of."

Jerusalem Mayor Barkat said in response to the report, "Our Shin Bet is one of the finest organizations in the world. I was briefed on the threat the entire time. When the Shin Bet is involved and the police are on ground, I can trust them and sleep quietly and safely."

Yael Freidson, Attila Somfalvi and Alexandra Lukash contributed to this report.