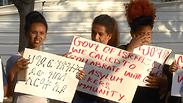 Eritrean asylum seekers protesting the violence
Photo: Amit Huber
After four days of violent protests in south Tel Aviv, which left several people injured and arrested, hundreds of Eritreans gathered Wednesday in the Levinsky Park, to demonstrate against Eritrean dictator Isaias Afwerki but also call for an end to violence in the Eritrean community in Israel.

Some even called for those Eritrean asylum seekers who support Afwerki to be deported. Towards the end of the event, some Afwerki supporters arrived at the scene equipped with rocks and sticks and began rioting, which resulted in a brawl. The police securing the event did not intervene.


The protests are a result of clashes which broke out Saturday, when thousands of Eritreans living in Israel gathered under heavy police presence near the Kanot Junction to celebrate the Eritrean Independence Day. This has angered those in the Eritrean community who oppose the oppressive regime in their country.

Every single day ever since has been marked by protests involving hundreds of Eritreans in south Tel Aviv, pelting each other with rocks, smashing windows of cars and nearby stores, and even using cold weapons.

This isn't the first year clashes of this kind have broken out, yet this year has been marked by the increase in violence.

Violence at the protest (צילום: אמיר אלון )

The demonstration on Wednesday was led by a group containing dozens of women holding signs that read "Stop the Violence," "Stop Dictatorship" and "Our Lives is Israel," among other slogans.

The women condemned the riots. "We don't want the blood of our brothers to be spilled here. We want peace rather than chaos," one woman said.

She went on to further condemn the Afwerki supporters. "They disturb us. We came to Israel to live rather than just work. We left our home because of the dictatorship, which made our country a dangerous place to live in. We came to seek asylum."

"We have friends who call themselves refugees, but they are actually work migrants who pay two percent of their monthly salary to the Eritrean government in taxes," raged Etkili Abraham Michael, an asylum seeker who opposes his country's regime.

"They terrorize Neve Sha'anan. Some of our friends have been assaulted, stabbed and are now in hospitals. Over the last few day, we've been scared to go to work ... we just stay home," he lamented.

Etkili claims that around 3,000-4,000 supporters of the regime are the ones who initiated the violence. "We ask the Israeli government to deport them back to Eritrea. If they celebrate the Eritrean Independence Day–they might as well just go there ... the chaos in Eritrea is more than enough for us, we don't need it here in Israel as well."

"After they assaulted me, I can't stay silent. Rocks are being thrown at us, and we're defending ourselves. We didn't start this mess," he insisted, referring to those protesters who oppose the regime.

Snait Zerbrock, another asylum seeker, added, "We're all Eritreans and I can't go against my brothers, but if they're rooting for the dictator, that's an issue. We didn't come here to beg for food but to save our lives. I cannot go back to my country, but if they don't have a problem with it, they're free to go back."

Sheffi Paz, one of the leaders of the fight against Eritreans being granted asylum, also came to the demonstration on Wednesday. "We're dealing here with an Intifada of the asylum seekers," she asserted.

"We can't differentiate between those who support the regime and those who oppose it. We've been talking about this problem for a while since it didn't start this week but has been happening for a long time."

Paz claims the situation has worsened over the recent days. "There's a surge of violence day after day. Dozens of people with rocks in their hands that you're constantly worried might strike you ... these people have brought their diseases with them, while old local women are dying of fear and can't leave their homes."

In the meantime, over 20 Eritrean citizens, accused of being involved in the riots in south Tel Aviv, have been arrested by the police. They will be transferred to the Saharonim facility once the police proceedings are finished.