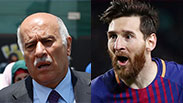 Jibril Rajoub and Lionel Messi
Photo: Reuters, AP
Israeli sources: Qatar behind Argentina friendly cancellation
Despite financial problems, the Argentinian Football Federation will reimburse the Israeli production company organizing the match $2.2 million; Qatar is reportedly sponsoring this move thanks to close ties with Palestinian soccer chief Jibril Rajoub.
Israeli sources believe an Arab nation, likely Qatar, is behind the cancellation of the Israel-Argentina friendly, which was scheduled to take place on Saturday in Jerusalem.

While the Argentine Football Association has been experiencing severe financial difficulties in recent years, it still committed to immediately pay $2.2 million in compensations to the production company organizing the game.

The Federation, which was initially concerned by having to pay the steep compensation, surprised representatives of Comtec Congress Management when it informed them it will pay the full sum.

Israeli soccer officials pointed to the close ties between Qatar and Jibril Rajoub, the chairman of the Palestinian Football Association, who pushed for the match's cancellation.

Thanks to these close ties, when FC Barcelona visited Israel two years, Qatar paid a high sum to have the team visit the Palestinian Authority as well—even though that eventually did not pan out.

"There's no chance that an Arab nation, probably Qatar, is not behind the cancellation of Argentina's arrival," said an Israeli source.

"We're understanding more and more that the real issue here is not the threats (against the Argentine team and star player Lionel Messi—ed.), which are only an unreliable excuse, but a wealthy Arab state bribing a poor soccer association," the source said.

While Argentina will reimburse the Israeli production company, the team will still possibly arrive in Israel for a friendly match after the World Cup without being paid.

Nevertheless, because of the emotional distress caused and the fact that the production of the match has already been completed, Comtech are considering filing a lawsuit against the Argentinian Football Federation for a gross breach of contract shortly before the event.