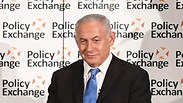 Prime Minister Benjamin Netanyahu
Photo: Haim Zach/GPO
Netanyahu warns Assad: If he fires at us, we'll destroy his forces
Syrian president 'is no longer immune' now that he invited Iran into his country, Prime Minister Netanyahu says at London conference; on the use of lethal force in Gaza, he says: 'if you found non-lethal means to deal with such a situation, I would be the first to want to use it.'
Prime Minister Benjamin Netanyahu warned Syrian President Bashar Assad on Thursday, saying if he fires at Israel, the IDF will "destroy his forces."

"When they waged this horrific civil war, Israel did not intervene. We built a hospital. Now the war is nearly over, he invites Iran in? He is no longer immune. If he fires at us, we'll destroy his forces," Netanyahu said at the Policy Exchange Institute in London, after visiting France and Germany to discuss Iran.

Discussing his relationship with former US President Barack Obama, Netanyahu said "The main disagreement with Obama was on Iran and I was quite forthright about it," adding "there is no disagreement between President Trump and me on Iran, and I appreciate that very much."

PM Netanyahu talks in London about Iran, Syria (צילום: חיים צח לע"מ)

Despite his disagreements with Obama, Netanyahu noted, he signed a 10-year $38 billion military aid agreement with the former president.

The prime minister praised Trump's decision to recognize Jerusalem as Israel's capital and move the US embassy there. "Any conception of peace will have Jerusalem as Israel's capital, so why not recognize facts?" he argued.

Netanyahu was asked why the IDF has not been using other methods to deter Palestinians from trying to breach the border fence, such as rubber bullets or shooting at instigators' lower extremities.

"Everything you suggested has been tried. Hamas's goal was to have many casualties, ours was to minimize casualties. If you had a similar situation here and you found non-lethal means to deal with it, I would be the first to want to use it," he responded.

He was also asked whether he believed the Syrians would reduce Iranian influence in their country.

"Iran is trying to move its army a thousand miles, so it can threaten Israel. They want to bring in precision-guided rockets with half a ton warheads and submarines to the Mediterranean," Netanyahu said, warning Israel would not tolerate such moves.

Commenting on a planned "Al Quds Day" march in London in three days, Netanyahu described it as "wrong."

"Both wings of Hezbollah seek the destruction of not only Israel but also of Jews. These are horrible people, the worst theocratic gangsters in the world. Why are progressive forces behind one of the least progressive forces in the world? It's because they oppose Israel. There's a word for that. It begins with A: anti-Semitism," he charged. "The idea of aligning with the forces of barbarism against one of the most modern pluralistic states in the world, it's horrific.

"Why are they not protesting against other countries? This is not because of any wrongdoing by Israel, this is because Israel exists. They're leaving aside all the wrongs in the world and focusing on the one Jewish State."