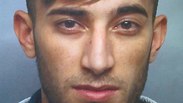 German authorities searching for Iraqi refugee suspected of raping, murdering Jewish teen
Police hunt for 20-year-old Iraqi Ali Bashar and a 35-year-old Turkish citizen for involvement in rape and murder of Susanna Feldman, 14, a member of the Jewish community in Mainze, who went missing in May and was found on the outskirts of western German city of Wiesbaden.
German authorities investigating the rape and murder of a 14-year-old Jewish girl said Thursday they are seeking a fugitive Iraqi asylum-seeker and have arrested a Turkish man in the latest high-profile case involving migrants.

The body of the girl, who had been missing since May 22, was found Wednesday on the outskirts of the western German city of Wiesbaden.

Prosecutors said two men—a 20-year-old Iraqi and a 35-year-old Turkish citizen, both of whom lived at homes for asylum-seekers in the city—are suspected of raping and killing the girl on the evening she went missing. They believe the two then buried her body.

Police said the Iraqi man, whom they identified as Ali Bashar, appears to have left abruptly with his family last week, flying to Erbil, Iraq via Istanbul. He was a suspect in a string of previous offenses in the area, including a robbery at knifepoint.

He's believed to have arrived in Germany in October 2015, at the height of the migrant influx to Germany, and was appealing the rejection of his asylum application.

The Turkish suspect, who wasn't previously known to police, was arrested Wednesday evening.

Police said a 13-year-old refugee boy went to a police station in Wiesbaden on Sunday and told officers the girl had been raped and killed, and named the Iraqi as a possible perpetrator.

Germany's Central Council of Jews said the murdered girl—identified by police as Susanna Feldman—was a member of the Jewish community in Mainz, near Wiesbaden. It called for a thorough investigation and warned in a statement against "premature conclusions."

Previous killings by asylum-seekers in Germany have fanned tensions over the influx of more than a million migrants in 2015 and 2016, an issue that helped the far-right Alternative for Germany enter the German parliament last year.

The surge of migrants also sparked a rash of attacks on asylum-seekers' homes, which has since tapered off.

In one case, two men were convicted Thursday in the southwestern city of Landau of setting fire to a home being built for asylum-seekers in the nearby town of Herxheim in 2015. They both received probation.