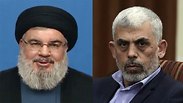 Nasrallah and Sinwar
צילום: AP
Report: Hezbollah helping Hamas establishing militarily in Lebanon
Lebanese newspaper says Hezbollah is training thousands of 'Palestinian fighters' and working to build facilities for rocket and missile production for the Gaza terror group; Israeli Foreign Ministry issues rare confirmation: 'Issue is regularly on the agenda.'
Hamas is trying to establish a base in Lebanon with Hezbollah's help, which greatly concerns Israel, the anti-Hezbollah Lebanese newspaper Al Joumhouria reported on Saturday.

According to the paper, over the past few weeks Israel has been trying to persuade the United Nations to address the matter, presenting the UN with evidence of Hamas and Hezbollah's military-logistic ties under the patronage of Iran.

Hamas and Hezbollah are reportedly working together to establish a Hamas military force in Lebanon, including thousands of Palestinian fighters as well as facilities to manufacture rockets and missiles.

Israel's Foreign Affairs Ministry, according to the paper, presented the UN and the UN Security Council with "intelligence information" establishing these claims.

In addition, the paper said Israel was basing its claims on comments made by the leadership of Iran's Revolutionary Guard Corps, which Israel says prove that Tehran intends to use Lebanon as a gathering site to rally the troops before it launches a war against Israel with fighters from all over the world.

The intelligence Israel reportedly presented to the UN indicates Hezbollah has built training camps in Lebanon for Hamas. The construction of the training camps was reportedly overseen by a senior Hezbollah official dubbed M.H., who is also on Israel's wanted terrorists list.

According to the paper, Israel has also made two demands to the UN, with the first being that the UN investigates Hamas-Hezbollah ties as a violation of resolution 701, and takes the matter under advisement in a few months when discussing the renewal of the UNIFIL mission in southern Lebanon.

Israel also demanded that the international call on Hezbollah to stop its activities outside Lebanon (including in Syria, Iraq and Yemen) includes its ties with Hamas as well.

The Ministry of Foreign Affairs issued a response to the Arab report, something it rarely does. "The topic is on Israel's agenda at the UN and is brought up regularly in meetings, official missives and speeches, both in front of the UN Secretariat and the Security Council," it said.

Israel's Ambassador to the UN Danny Danon noted that "We're witnesses the implications of the Hamas terror regime in Gaza. Now Hamas is strengthening its ties with Hezbollah, with the approval and support of Iran, and working to establish its capabilities on Lebanese territory as well. We won't sit idly by when faced with these threats."