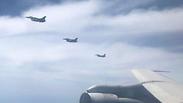 Israeli Air Force Exercise
Photo: IDF spokesperson's office
The Israeli and the Greek air forces conducted a joint drill as part of the wide-scale Air Force exercise that concluded last week.

The drill included long-haul flights, dozens of planes training in unknown territories, and a simulated attack of a missile battery. The two air forces also practiced aerial refueling, while air crews shared knowledge.

Hundreds of fighter jets, helicopters and aircraft carriers took part in the exercise, which included day and night flights.

Footage of air force exercise (צילום: דובר צה"ל)

Israel sent 40 fighter jets from 10 different squadrons, refueling and cargo aircraft, and dozens of air crews to Greence for the drill.

The training was conducted entirely in the air, without landing, and included two daytime flights.

The exercise was planned as part of the IDF's 2018 training schedule with the objective of improving forces' battle fitness and preparedness.

"We're talking about a training exercise that takes us far away from home to an unknown territory, to carry out a precise and defined mission in very challenging conditions," said Lt. Col. R., commander of the 105th Squadron.

"The drill was successful due to our initial capabilities and our detailed planning and preparations. Our ability to take the tools we have available and go really far to carry out a mission and then go back is an ability we are ready to implement at any moment, whenever necessary."

The exercise, which lasted five days, simulated fighting on both the northern and the southern borders to improve the IAF's ability to cope with a scenario that involves combat on several fronts simultaneously.

During the drill, dozens of fighter jets practiced an attack on hundreds of targets in the Gaza Strip during a very short timeframe.