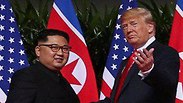 Trump and Kim meet in Singapore
Photo: Reuters
When US President Donald Trump sat down to make the case for peace to North Korea's leader Kim Jong Un on Tuesday, he rolled out what amounted to a movie trailer starring the two leaders.

Trump said he urged Kim and other North Korean officials to watch a four-minute video produced before the Singapore summit. Trump said Kim and other senior members of the North Korean delegation huddled around an iPad to watch the video, which appeared to draw more from the hype of Hollywood than the careful language of diplomacy.

"I think he loved it," Trump said, referring to Kim, adding that he gave the North Koreans their own copy.

The video Trump screened Kim

Kim's late father and predecessor, Kim Jong Il, was a Hollywood film buff, with a special affection for director Steven Spielberg and actress Elizabeth Taylor and an extensive video library to match, according to defectors and intelligence agencies.

White House officials also arranged for the video to be played for reporters at Trump's post-summit news conference. The video was produced by the US government to help persuade Kim to make a deal, a White House official said. "An audience of one," the official said.




The video mixes both Hollywood and propaganda film tropes that play over a pulsing orchestral score. It appears to be composed almost entirely of generic stock footage and old news clips, including images of Trump and Kim smiling. There is an English language version and one in Korean, the narrator having a South Korean accent.

At one point, it features a montage with babies and car factories, suggesting what a more prosperous future for North Korea could look like if it agreed to give up its nuclear arsenal. To illustrate the point, ballistic missiles are shown in reverse motion, pulling back into their launch silos.

"The past doesn't have to be the future," a narrator says as the video showed the demilitarized zone that has separated North and South Korea since the end of the Korean War in 1953.

Then later, the narrator says, "a new world can begin today," as an animated sequence suggests what the impoverished North Korea could look like from space if it was as brightly lit up at night as the far more prosperous South Korea.

Trump and Kim reached a broad agreement that North Korea would move toward denuclearizing the Korean peninsula, while the United States committed to providing security guarantees and suspending military exercises with long-time ally South Korea.

The credit on the video said it was produced by Destiny Pictures, which disrupted the morning of Mark Castaldo, who owns a Los Angeles-based production company with the same name, albeit with a different logo than the one in the video.

"We had nothing to do with that film," Castaldo said in a telephone interview, adding he had awoken to a deluge of calls and emails from journalists around the world. "Propaganda, all that stuff, that's not something we'd get involved in."

Before he ran for president in the 2016 election, Trump was a businessman with a long career in entertainment, presenting "The Apprentice" reality TV show for several years. Despite 10 years as a casino worker in Las Vegas and Atlantic City before switching to film, Castaldo said he had never met Trump or worked in a Trump casino.

At times, the video appeared to address Kim directly, suggesting he could make a choice that would open North Korea to new investment and step into a starring role in a moment in history with Trump.

"Featuring President Donald Trump and Chairman Kim Jong Un, in a meeting to remake history, to shine in the sun," the narrator says. "One moment. One choice. What if?"