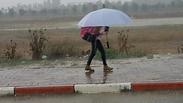 rain in Merhavim Regional Council
Photo: Merhavim Regional Council
Heavy showers caused flooding in the cities of Ashkelon and Sderot early Wednesday morning, with vehicles sinking in streets submerged with water.
"The drainage system has collapsed," said Danny Hazan from Sderot. "Since the early morning, the rain hasn't stopped. Everything is flooded. People were not prepared for this. Families have already opened pools in their backyard (for the summer)—all of a sudden it rains. Unbelievable."
Approximately 49 mm of rain were registered by the meteorological center in the Kibbutz Dorot near Sderot from 6am-8am. This is the height of precipitations so far in the past 24 hours.
In Ashkelon, 38 mm have been reported, with 20 millimetres of rain falling during the night in only 20 minutes.
June showers across Israel
In the Tel Aviv metropolitan area along the coast line it rained heavily as well.
During the night, downpours along with thunderstorms also occured in Western Galilee. Ma'alot and Karmiel suffered power shortages as a result of the storm.
So far, Ashkelon experienced 28 mm of rain, Bat Yam had 36 mm, northern Golan Heights (Ortal) 14 mm, Ma'alot 14 mm, Acre 14 mm, Kfar Saba 9 mm, Kibbutz Negba 9 mm, Rishol LeZion 8 mm, Netanya 8 mm, Zikhron Ya'akov 6 mm, Golan Heights Center 4 mm, Kibbutz Ginosar 2 mm, Tel Aviv and Ashdod 1 mm each.
Meteorologist Avi Yaakov Zada from Meteo-Tech said that during the day local rain is forecasted, with heavy showers likely to hit along the coastal line. He alerted of possible flooding in streams in the south of the country.
During the night hours Wednesday, the rain is expected subside.