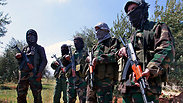 Hezbollah terrorists on Syrian-Lebanese border
Photo: AP
Report: Hezbollah refused Russian demand to leave south Syria
Syrian human rights monitoring group claims Kremlin asked the terror group to vacate its forces from its war-torn client state's border near Lebanon, but that no rift ensued as a result; report comes day after Syria's Assad said 'Hezbollah is a basic element in this war.'
A Syrian human rights monitoring group reported on Thursday that the Hezbollah terror group's leadership has refused to accede to a Russian request that its forces vacate a number of locations in southwest Syria near the Lebanese border.

Moscow, which has served as Syrian President Bashar Assad's chief patron in the war-ravaged country, reportedly demanded that the terror group withdraw from the southern and western suburbs in the Homs locality and the Lebanese vicinity as part of a wider effort to return Russian troops back to certain positions in the area away from Hezbollah.

Despite the refusal, no dispute or fraying of relations were detailed in the report. The rights group said that Hezbollah is sporadically "renewing its ranks" in military posts straddling the Syrian-Lebanese border, serving as proof that it has no intention to evacuate the area.


One of the locations in which the Shi'ite terror group plans to maintain its presence is the western Syrian city of Al-Qusayr, 35 kilometers south of Homs. Last month, a Hezbollah airfield in the area was bombed in a strike that was widely attributed to the Israel Air Force.

In May, Arab news outlets, including the Syrian rights organization, reported that Russian forces had withdrawn from the Homs vicinity and would soon be replaced by Assad's army. No indication, however, was mentioned in the report that the Russian withdrawal has yet been implemented.

The Kremlin is currently in the midst of a tense relationship with Iran and its proxy Hezbollah over their presence in Syria, a reality which Israel has repeatedly raised concerns over and stated that it will employ all means necessary to flush them out of the country.

Concerned that Hezbollah will eventually use Syrian soil as a launchpad from which to unleash its aggressive designs on Israel, Jerusalem has urged the Russians to reign in the terror group and remove them from the border.

Following Israel's exhortations, Russia announced its position that military presence in southern Syria should be restricted exclusively to Assad's army.

A feud erupted shortly after between Russia and Iran and Hezbollah, with the two complaining that the declared new position was not coordinated with them first.

Assad said on Wednesday Iran does not have any military bases in Syria, unlike Russia, but added that if there is "a need for Iranian military bases, we will not hesitate."

Speaking in an interview with Iranian channel al-Alam News published in an English translation by Syrian state news agency SANA, Assad said his Syrian troops are supported by fighters from Iraq, Iran and Lebanon.

When asked if he had asked Lebanese Shi'ite Muslim group Hezbollah to leave Syria, Assad said the group would remain until "Hezbollah, Iran, or others believe that terrorism has been eliminated".

"Hezbollah is a basic element in this war—the battle is long, and the need for these military forces will continue for a long time," he said. "When Hezbollah or Iran are satisfied that we have destroyed the terror, they will tell us: 'We want to return to our countries.'"

Secretary-General of Hezbollah Hassan Nasrallah said on Friday that his organization will remain in Syria as long as Syrian President Bashar Assad wants it there, defying renewed US and Israeli pressure to force Tehran and its allies to quit the country.

"I will tell you that if the whole world comes together to force us to leave Syria, they will not be able to evict us," Sayyed Hassan Nasrallah said in a televised address to hundreds of supporters who gathered in the village of Maroun el-Ras on Lebanon's border with Israel to mark Jerusalem Day.

He added that only the Syrian leadership could ask them to leave.

Reuters contributed to this report.