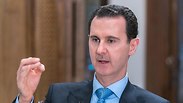 Syrian President Bashar Assad
Photo: Reuters
Assad 'will not hesitate' to move Iranian bases to Syria if necessary
Speaking in interview with Iranian channel al-Alam News, Syrian president denies presence of any Iranian bases on Syrian soil, but admits country's troops are supported by fighters from Iraq, Iran and Lebanon; says contacts ongoing with US, Russia and Israel about about how to handle violence in southwest.
Syrian President Bashar Assad said on Wednesday Iran does not have any military bases in Syria, unlike Russia, but added that if there is "a need for Iranian military bases, we will not hesitate."
Speaking in an interview with Iranian channel al-Alam News published in an English translation by Syrian state news agency SANA, Assad said his Syrian troops are supported by fighters from Iraq, Iran and Lebanon.
When asked if he had asked Lebanese Shi'ite Muslim group Hezbollah to leave Syria, Assad said the group would remain until "Hezbollah, Iran, or others believe that terrorism has been eliminated".
"Hezbollah is a basic element in this war—the battle is long, and the need for these military forces will continue for a long time."
Syria's multi-sided conflict has drawn in a number of foreign powers.
Assad said Syria had invited Iran and Russia to participate, but that he regarded American, French, Turkish and Israeli forces acting on Syrian territory as occupying powers.
"Our position as a state has been from the beginning to support any act of resistance, whether against terrorists or against occupying forces, regardless of their nationality," he said.
"Contacts are still ongoing between the Russians, the Americans and the Israelis," Assad added when asked whether the situation in the southwest would be decided through reconciliation or military means.
The US military is in much of the east and northeast, leading a coalition against Islamic State and backing the Kurdish and Arab forces which control the area.
Turkey has sent forces into the northwest to counter the Kurdish groups, carving out a buffer zone where anti-Assad rebels have regrouped.
Iranian and Russian support has been critical to Assad's war effort, but Israel is pressing Russia to make sure Iran and its allies including Lebanon's Hezbollah do not entrench their military sway in the country.
Israel has carried out missile strikes on what it says are Iranian targets in Syria, and is suspected of being behind a number of other strikes on Iranian and Hezbollah positions.
Giving political solution to violence a chance
According to Aassad, his government is still pursuing a political solution for Syria's rebel-held southwest, but will use military force if this fails.

"We are giving the political process a chance. If that doesn't succeed, we have no other option but to liberate it by force," Assad said.

The southwest, bordering Jordan and the Golan Heights, is one of the remaining parts of Syria still outside the control of the state after seven years of conflict. Assad's forces have recovered swathes of territory from rebels with the help of Russian air power and Iran-backed militias.

Assad has repeatedly pledged to take back "every inch" of Syria.

Since last year, a "de-escalation" deal brokered by Russia, the United States and Jordan has contained fighting in the southwest.

Washington has voiced concern about reports of an impending Syrian army offensive there, warning of "firm and appropriate measures" in response to any violations of the ceasefire.