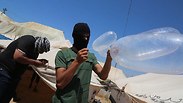 Palestinians preparing incendiary balloons
The IDF attacked infrastructure in the southern Gaza Strip on Thursday afternoon, where earlier a terror cell was working on preparing incendiary balloons.
An IDF aircraft initially fired warning shots at the cell, and later carried out an attack on the infrastructure. There has been no reports of casualties.
"The IDF considers the use of incendiary and explosive kites and balloons to be very grave and will work to prevent use of them," the IDF said.
IDF intercepts incendiary kites
On the Gaza borders, firefighters were battling 11 blazes in different areas caused by incendiary kites.
One of the members of Gaza's self-declared "incendiary kites and balloons unit" said Israel attacked a group of its men "in an effort to break their spirit."
"We will continue with all of our strength until we achieved our goals," he continued. "The settlers will not live in security and stability until the siege over Gaza is lifted. We'll cause the residents of Gaza to live under a siege of the fire of incendiary kites and balloons. The fire of the siege won't just break us."
He went on to say the "kites unit" has "prepared a target list of all of the sites and special facilities and of all of the agricultural areas so we can burn them all."
"We warned Israel against making stupid actions and hurting us," he concluded.


The "kites unit" vowed on Thursday to fly 5,000 incendiary balloons and kites into Israel on Friday in honor of Eid al-Fitr—the holiday that marks the end of the month of Ramadan.
"While the siege only increases and the aggression continues—the 'March of Return' activity will continue as well," the unit said in a press conference convened at the Bureij refugee camp in the center of the Gaza Strip. "We'll go out to burn the settlers' lands. Our unit has burned tens of thousands of dunams and military outposts. We'll turn our lands into fire under their legs."


Several fires broke out earlier Thursday as a result of incendiary kites and balloons, including a brush fire near Kibbutz Be'eri and two other brush fires in the Shaar HaNegev Regional Council. Firefighters and foresters put out the fires. No one was hurt.